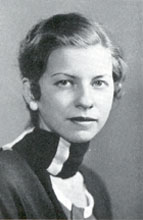 Marie Martin Eppler
Hometown: East Falls Church, Va.
Bachelor of Arts
Chi Omega
Y.W.C.A. Fresh Commission 1 Treas 2
Fireside Committee 2 Council 2
International Relations Committee 2,3
Dickinsonian 2,3,4
Harmon Literary Society 1
Hornbook 3 Ass. Editor Fall, Editor (Winter issue)
Helen Eppler was born in Harrisburg, Pa on March 26, 1912. Her parents were Joseph Edward Epler and Myrtle Mae Messner. She was raised in Harrisburg and graduated from Halifax High School. She was not religiously affiliated with any churches upon admission to Dickinson College. Upon graduation from the college in 1934 with her Bachelor of Arts Degree, Helen was eligible to teach English Literature and Rhetoric, Instrumental and Orchestral Music, French, Latin, and History. She could also coach Archery and Tennis. She stood 5'5" tall and weighed 105 lbs at the age of twenty-two. She later married R. Gilbert Manning where her occupation is unknown.