Men's Soccer 1964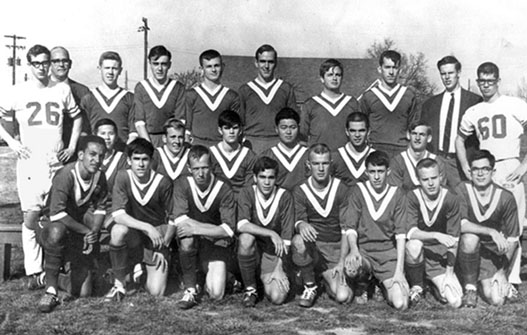 Photograph courtesy of Dickinson College Archives
---
This is the Dickinson Soccer Team in 1964. The men in the photograph, who restored the fine traditions of Dickinson Soccer that year, from top to bottom from the top left are:
First row: Coach Eavenson, D. Zane, S. El-Fassi, B. Nutting, T. Zug, P. Schweizer, S. Mohr, C. Dill.
Middle row: B. Connard, D. Lin, J. Fergeson, J. Langdon, L. Leong, D. Thompson, R. Young, D. Smith.
Bottom row: H. Abbey, C. Borneman, B. Mark, L. Corbin, T. Hermann (captain), R. Grass,T. Wilson, and D. Johnson
The team's record for that season: 4 wins, 3 loses, and one tie, breaks down as follows: lost to Johns Hopkins 2-6, beat Lycoming 5-2, lost to Franklin & Marshall 5-7, and to Muhlenberg 0-2, defeated Washington College 2-1, Gettysburg 2-1, P.M.C. 6-2, and drew with Wilkes College 2-2.
The Dickinson Soccer program was suspended during World War II and the years that followed, due to the lack of interest exacerbated by the conflict in Korea and prior to that, the World War. (For more on this click here) The sport, however, made a comeback in 1964 after being a club team during the previous year. The team that appears above was under the leadership of Coach David Eavenson and the team's captain Tony Hermann. The team contained a number of foreign students at that time, two of whom were Arab and one an Asian player (Saad El-Fassi, Hassan Abbey, and D. Lin).
After a twenty four year absence, Dickinson Soccer was back and strong enough to compete. During that season, the team finished eighth in the Middle Atlantic Conference Southern Division, (MAC). Although the Dickinson Soccer team did not have enough funding to begin with, they improvised as best they can in order to look presentable enough to be a college varsity team. The team used old shorts and jerseys from other sports teams, for instance. During that season, Tony Hermann led the team by example, scoring 14 of the 25 goals scored for Dickinson - he was truly a sensational player.
By 1967, the soccer team as well as Dickinson had its first All American Athlete of the modern era when Doug Smith (class of 1968), the Dickinson goalkeeper was awarded that honor. He was also included in the Dickinson Sports Hall of Fame. Though the 1964 team no longer holds any Dickinson Soccer records, Coach Eavenson holds that of the second longest soccer coaching career at Dickinson of 11 years and 60 wins, behind record set William Nickey set of 12 years and 77 wins. Also, Tony Hermann remains high on the list in the category of Most Goals in an individual Season of 14 goals, a mark not broken until Ed Traub (class of 1977) scored 15 goals in his senior year. Javier Palazuelos, class of 1994, holds this particular record presently.
Karim Youssef

---
Sources:
1990 student history project (Glenn Whitman '90) held in the Dickinson College archives
Records
of the Dickinson College
Hall of Fame held at the Kline Center
Microcosm1964
Dickinsonian1964
---