Dickinson Soccer 1934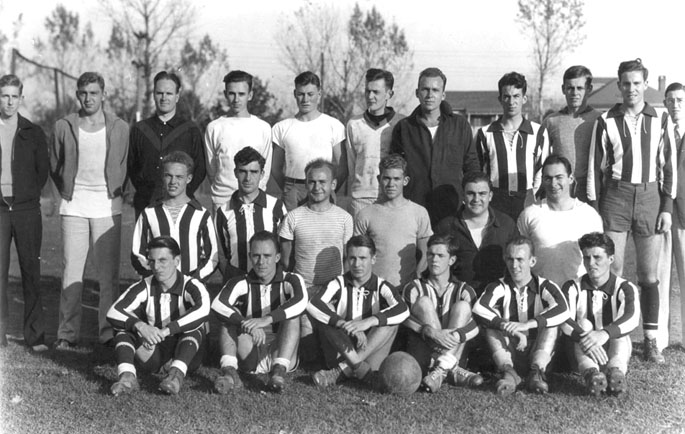 Photograph courtesy of Dickinson College Archives
---
This is a photograph of the 1934 Dickinson Soccer team. The first row of players includes Manager Turner, Fritchey, Coach Stephens, Passmore, Rechewas, Davis, Quay, W. Gordon, Woodward, Trace, and Assistant Manager, R. Roger. The second row of players has Highness, Clifton, Dibbles, Fellenbaum, Markowitz, Koltnow and the third row players Blotter, Kerstetter, Flak, Dowering, Minter, Stambaugh.
The coach of the team was Professor George Stephens, who was the first varsity head soccer coach in Dickinson Varsity Soccer history. In 1934, the fifth year of its existence, the team went 1-7 and suffered many crushing defeats. Part of the problem was that the College had declared the freshmen ineligible to play in intercollegiate contests that year; this robbed the side of valuable talents.
Letters were awarded to the following men, Quay, Markowitz, Gorton, Trac, Flak, Heines, Stambaugh, Watson, McIntyre, Blotter, Kerstetter, Kahn, Clifton, and Manager Turner. Jamie McIntyre was elected as honorary captain of the 1934 team, Bill Kerstetter was elected to the captaincy for 1935.
Soccer at Dickinson started in 1929 when the Athletic Association appropriated money for equipment. The soccer team began that year under E. M. Bowman. Soccer was only supposed the be an intramural sport but on December 7, 1930, Dickinson played its first match ever against Mt. Alto. This inaugural match was a 3-2 win. Soccer was not raised to a varsity sport until 1931 when it attained the same status as baseball and track. The players did receive letters but they were not as large as those the football letter winners.
The games were played on the south side of Biddle Field. Dickinson played mostly local college teams. They played Gettysburg and Western Maryland twice just about every year and also included Franklin and Marshall on their schedule quite often.
English professor George Stephens took over the team in 1930. He was the first varsity coach in Dickinson soccer history and coached until 1935. After Stephens, came a long line of coaches. Kenneth Clinton coached the team in 1936. Carl Chronister took over the team in 1937. Ernie Glazier coached the team in 1938. Finally, Harry Brown coached the team in 1939 and 1940. The team did not record a win in the last three years of its existence.
After the 1940 season the soccer team was abandoned because of lack of interest. Soccer officially ended on November 11, 1940. One of the main reasons this occurred was because of the Great Depression and, especially, World War II. The team was not able to rally enough interest because of the large number of students who had enlisted in the armed forces. Attempts were made to bring soccer back after the end of the war but again, the Korean War helped make that almost impossible. It was not until 1964 that the soccer team was again a varsity sport at Dickinson.
To find out about the revival of Dickinson Soccer click here.
Kevin McAuliffe
---
Sources:
Microcosm 1934; Glen Whitman research paper from 1990 held in the Dickinson College Archives
---