Cheerleading 1924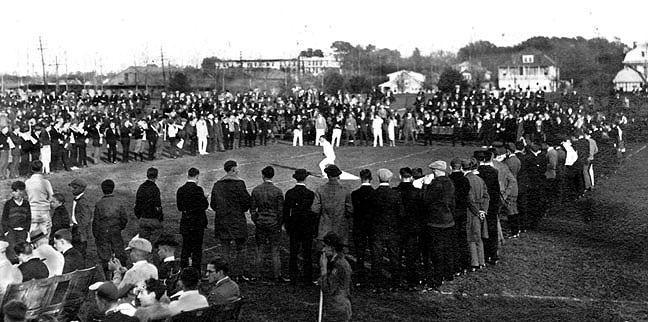 Photograph courtesy of Dickinson College Archives
---
Dickinson's first all male cheering squad, "The College Noise", was created in 1922. The first four men involved in this pep group included: Harvey R. Allan (Senior), Charles W. Burn and Leon S. Simonetti (Sophomores), and Paul M. Schuchart (Freshman). These four men were the first form of cheerleaders at Dickinson. Women did not begin cheer leading until the early 1930's. (See the photograph of the 1963 Dickinson women cheer leaders) These men would usually perform on Friday nights, the night before a football game, at what was called a 'pep meeting'. At these pep meetings the student body would gather at Biddle Field, surrounded around a bon fire, and listen to the four men yell cheers. Furthermore, the cheering squad would perform during the half time of a football game. When Dickinson created cheerleaders, back in 1923, there were two different types. There were the cheerleaders and there was also a cheering squad. Some of these men participated as both, cheerleaders and with their cheering squad and some men just participated in either one or the other. Also, the freshman class had their own cheerleader, which at the time was Paul Schuchart. Cheerleaders and the cheering squad would also raise school spirit at basketball games. Eventually, throughout the following years, pep meetings became into a fraternity event in which competition between groups overplayed the unity of earlier events. They ceased entirely in 1964.
In the picture above, there are five male cheerleaders. These five men included: Charles W. Burn, Witt A. Hutchison, Herbert M. Ridgely and Charles B. Witwer. In this picture there is one man in the middle and the crowd has formed a large "D" around him. The other four men are aside practicing their yells. There is another photograph which shows the same five cheer leaders during this half time event. Rather than cheering separately, which is what is occurring in the picture above, they are cheering together around the crowd. This pep meeting is being held during a half time of the Dickinson vs. Albright College football game, which was played on October 24, 1924 at Biddle Field. The large white building in the back ground is Conway Hall. The photographer is facing Wilson Street with his back to Belvedere Street. High Street is on the left, where the train tracks (no longer there today) can be seen.
The original photograph was printed on a postcard. On the postcard from which this digital version was scanned are the words: "Between the halves at the Albright game - we are forming a D and running through the yells, I am in the middle" together with the embossing "Guth Studio, Carlisle, PA." There is a similar shot taken at the same time on page 110 of the 1925 Microcosm.
---
Sources:
Microcosm 1923, 1924, 1925, 1926
---