32nd College Training Detachment
at Dickinson College
---

The headline from the February 16, 1943 issue of the Dickinsonian.
Courtesy of the Dickinson College Special Collections.
The 32nd College Training Detachment was a government established Air Crew Training Center at Dickinson College. The enlisted men were assigned to the College during World War II to receive pre-flight academic, physical, and military training. The academic requirements of the program were under the direction of the College and were provided by the College faculty. Dickinson was one of nine schools in the United States selected for aviation cadet training. Cadets began to arrive on March 1, 1943 and totaled over 700 men by the time the Air Crew left Dickinson in May of 1944. Fraternity houses were rented to house the cadets while they were at the campus.
President Fred Pierce Corson had to bring in new faculty members to teach the men, as Dickinson had a shortage of professors. Most employees on the War College Staff were paid approximately fifty dollars per week for their work with the cadets. These extra teachers, many of who had come from high schools in the Cumberland Valley area were then let go when the program was terminated on May 31, 1944.
John Hartigan was sent to Dickinson in mid spring to take over the role of commanding officer of the detachment after Major Marauda was transferred. Hartigan was at Dickinson through the summer and was then transferred to the 63rd College Training Detachment at the University of Tennessee. A letter from Hartigan to Fred Corson dated May 28, 1943 contained excerpts from a report on the 32nd. The report read, "Major Hartigan's work is deserving of superior rating…Highly complimented by Dr. Corson." It was during his time spent at Dickinson with the Air Crew that Hartigan first proposed his idea of a Foreign Service School to Fred Corson.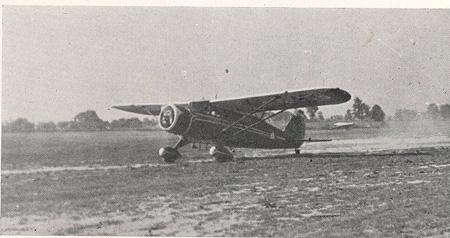 Aircraft used in flight instruction for the 32nd Air Crew.
Photo courtesy of Dickinson College Special Collections.
For more information on the 32nd College Training Detachment, click here.
---
*The above information was found within the Dickinson College Archives and Special Collections, Carlisle, Pennsylvania.
President's Files, RG2, Box 1, Folders 3, 4, and 31.
The Dickinsonian, 16 February, 1943 issue.
World War II Drop File
---