Captain William P. Reckeweg
Captain Reckeweg was born in Audubon, New Jersey in September, 1916. He attended high school there till 1933, then entered the College with the class of 1937. While at Dickinson he was popular and active student, a football, soccer, and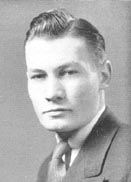 baseball player, and a member of the Glee Club. He was also a brother of Sigma Chi fraternity.
After graduation, he was employed as an insurance agent but by February, 1941, he was enlisted in the United States Army and had been sent to Fort Indiantown Gap, Pennsylvania for training. He completed officer candidate school at Fort Benning, Georgia, in August, 1942. By August, 1943, he was a captain. He applied for active duty and became the commander of Company C, 357th Infantry, 90th Division, in time for the D-Day landings. He was wounded in early July in Normandy and spent six weeks in hospital in England.
He was killed in action on February 1, 1945, in northern Luxembourg, when shell fragments struck his company command post as his unit was digging in on newly won high ground.