The people and places of Dickinson College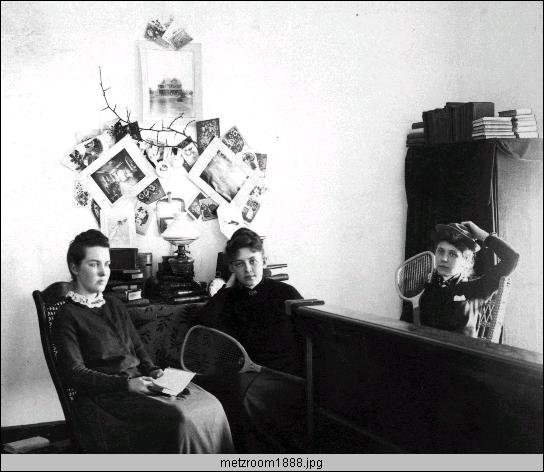 Courtesy Dickinson College Archives
Metzger College Room, 1888

---
As other educational institutions were founding women's schools, Dickinson College recognized the value in constructing one of their own. The idea of co-education was proposed in 1877 but was put off and not finalized until 1881. George Metzger, a Dickinson alumnus, stated in his will on January 29, 1872 that he left $25,000, his home, library and land "for a Female College wherein to have taught useful and ornamental branches of education". Thus, Metzger Hall opened on September, 28 1881. It was not authorized to be a women's college until 1884 though. The enrolled women took classes at Dickinson College with the men. In 1913, funds proved insufficient to keep the school up and it was leased rent free to Dickinson College. This is when it officially merged with Dickinson College.
In keeping with the culture of the age, the building needed to be maintained in ways proper for the co-education of women. This made Dickinson College attendance more expensive for women than for the men, who paid radically different amounts for room and board. The actual building was constructed of three floors and an attic. The dormitory accomodated thirty boarders and contained a dining hall, reception rooms, a small gym and a theatre which was also used as a chapel. Each dormitory room housed two students and each floor had a bathroom with hot and cold water. The grounds were lighted by electricity while the corridors were lit by gas. In 1963, the College returned the key and the building was razed.1 It was located where the Hardee's convenience food restaurant currently stands on Hanover Street.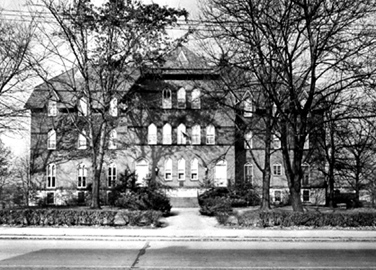 The Metzger Institute
The picture at the top of this page was taken in 1888 in Jennie May Taylor's Room at the Metzger Institute. From the left to the right are Jennie May Taylor, Mary Evans, and Mary Curran, all students enrolled at Metzger College in 1888. As one can see, these women lived quite well, with all the comforts of home. It seems the room was very spacious with a bed, desk, and a wardrobe to keep their belongings. Jennie clearly livened up the room by putting up pictures on the wall. From all reports, these women kept themselves busy by reading, going on outings, or just spending time together. They were very active women, as they were playing tennis and attending gym class. When the picture was taken in Jennie Taylor's Room it looks as if the girls had time to socialize unattended by mature adults.2 Mary Curran Morgan mentioned in her diary, for example, all the rides and outings she took with both male and female friends.3
Jennie Taylor was a junior and was from Muncy, Pennsylvania. She was born on Dec. 13, 1867 in Concord, Pa. She studied Practical Science at Dickinson College and went on to be a dentist. At one time in her life she traveled to Africa as a missionary. She married C.W. Gordon and eventually died an untimely death on December 29, 1897.4 Mary Evans was was also a junior and was studying a Hebrew course. She resided in the home of Mr. J.S. Bursk in Carlisle and was visiting her friends in their Metzger roon. She married Edward Rosa. Mary Curran was a senior from Bloomsburg, Pennsylvania, though she had been born on April 28, 1867 in Williamsport. She studied the classical course at Dickinson.
There were three girls in the class of 1888, in the class of 1889 there were four women, in the sophomore class there were no girls, and in the freshman class there were seven women. This makes a total of fourteen females that were enrolled in the Metzger Institute at this time. Most of these young ladies were from Carlisle and took residence in their own homes.5

| | |
| --- | --- |
| Jennie May Taylor | Mary Evans Rosa |
Much more is known about Mary Curran because she married James Henry Morgan who was a graduate, professor, dean, and President of Dickinson College. Her father and her younger brother were also graduates of the College. Mary was well known on campus as she was vice-president of her senior class; she was the only female officer. She was a small woman about five feet five inches in height with light brown hair and blue eyes. She graduated Phi Beta Kappa and second in her class behind Elizabeth Bender. Another honor that Mary achieved was that she won the Pierson Award for Oratory in May of 1887 on her oration called "Lifetides". This oration contest was optional for the women but she felt at least one of them should participate so as to bring females to equal opportunity in the future despite opposition amongst the men. She was known to be popular with the male students and also had quite a few friends if her diary is any indication.6 In 1890, she married Professor James Henry Morgan. Some sources suggest that there was a possible romance going on between them before she graduated. Together they had three children, Margaret, Julia, and Hugh. She died on April 22, 1927, of a heart attack on a train as she made her way to a meeting of the Board of the Methodist Home.7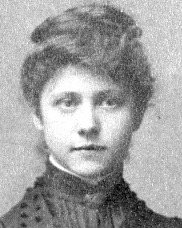 Mary Curran Morgan
The Metzger women seemed to have many opportunities at the College, within the cultural constraints of the age. Many of the women that attended the College were very well educated and well accomplished later in life. And all of these women had enough determination and purpose to outlive the oppostion that society brought against them.
Metzger Ladies 1895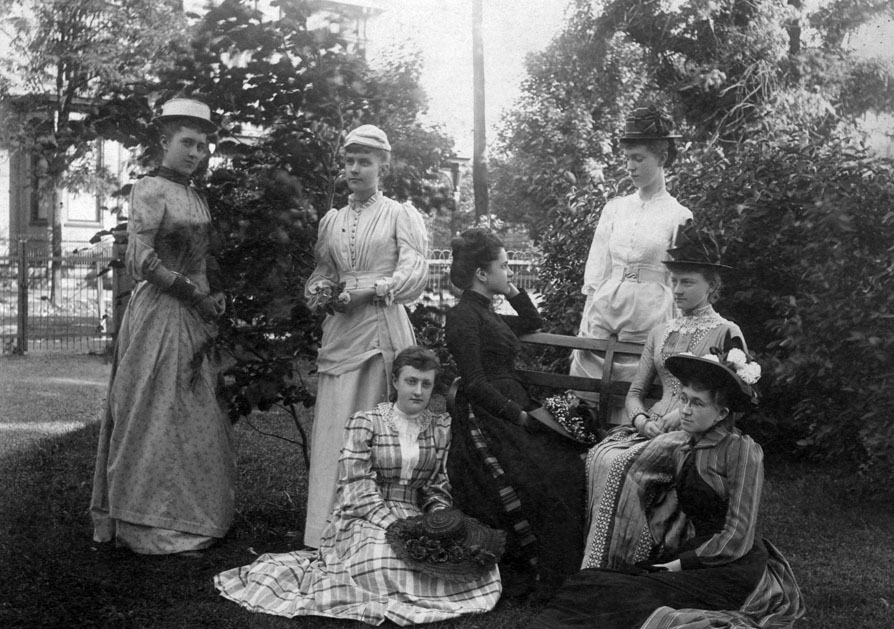 Aimee Zoppi
---
Sources:
1. Sellers Charles Coleman, Dickinson College A History. Middletown: Wesleyan University Press, 1973.
2. Dickinson College Catalogue 1888-1889
3. Jottings from the Personal Diary of Mary Curran Morgan
4. Dropfile for Jennie May Taylor
5. Dickinson College Catalogue 1888-1889
6. Jottings from the Personal Diary of Mary Curran Morgan
7. Dropfile for Mary Curran Morgan
(All materials may be found in the Dickinson College Special Collections)
---