People and Places at Dickinson College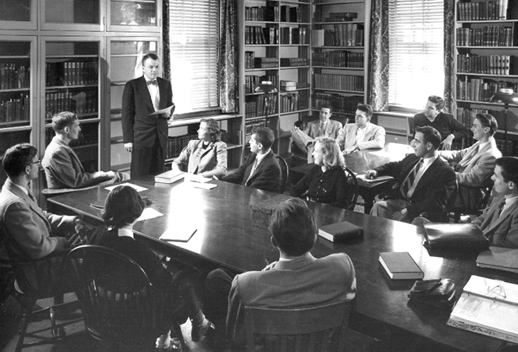 A History Class in Bosler Library in 1950
Photograph courtesy of the Dickinson College Archives
---
This photograph was taken in the James W. Bosler Library, in a seminar room specifically dedicated to the American History Seminars. The picture was taken in 1950 and at this time the Library consisted of the main reading room and stacks, a reference room, a reserved book room, library offices, the Alexander A. Sharp recreational Reading room, the Boyd Lee Spahr room for the Dickinsonia Collection, the American History Seminar Room, the Art Seminar Room, and the English Research Room. The newly opened American History Seminar Room was equipped for study and classroom use with a reference and research collection of about 3,500 volumes.1 At the time the picture was taken, the total number of history classes offered was twenty-nine, as compared to the number in 1998 of fifty.2
Only some people in the picture are identifiable at present. The professor of the class is Whitfield Jenks Bell, Jr. Ph.D. At this time he was an Associate Professor Of History and the indications are that this is a freshman history class since all three identified students, Caroline Shortlidge, Harry Kenneth Butera, and Roger Bayley Irwin, were all freshman at this time. Caroline is sitting at the table in front of Professor Bell on the right side of the table, with the blonde hair and the pin on. Harry Butera is sitting next to her and behind Harry is Roger Irwin. All three students graduated in the class of 1953 with a Bachelor of Arts. Caroline was a member of the Spanish Club, she was the Fraternity Librarian for Phi Mu, and she was on the Ways and Means committee. Harry was a member of the Belles Lettres Society, and member of Phi Kappa Sigma, becoming the secretary, treasurer, President, Vice president, Rushing Chairman, Pledge Dictator, and House Manager for his fraternity. Roger was a member of the Phi Kappa Psi fraternity, a member of the Dickinson Christian Fellowship, a member of the Dickinson Follies and Stage Crew, and he was on the Junior Varsity Basketball team.3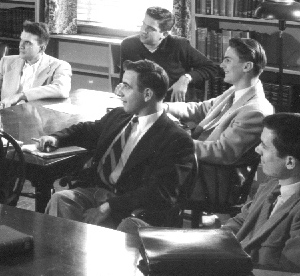 Harry Butera and Roger Irwin
Whitfield Bell , born in 1914, himself was a member of the Dickinson class of 1935. He He was a member of the Microcosm staff, the school yearbook, and was the Acting Editor-in-Chief for the Dickinsonian, the school newspaper, and was in the Phi Kappa Sigma fraternity. Due to his scholarly efforts, he was inducted as a member of the Omicron Delta Kappa fraternity and Phi Beta Kappa. He began his teaching career at the College in 1937 after he received his Ph.D. from the University of Pennsylvania. He initiated the Spahr Lectures in Americana on March 7, 1947. He resigned in 1954. Bell was quoted as saying of his students at that time"While my successors might bring better teaching, none would love them more." Although he was an Instructor, Associate Professor, and a Professor of American History at Dickinson, he was also a visiting Professor of History at the College of William and Mary in Virginia. He was a Research Associate Professor of History at the University of Pennsylvania and an Assistant Editor for the Papers of Benjamin Franklin. He was a trustee for Dickinson College. He has written a book called Early American Science: Needs and Opportunities for Study. He edited a book entitled the Bibliography of the History of Medicine of the United States and Canada. He also edited with L. W. Labaree Mr. Franklin: A Selection From His Personal Letters. Bell's work has also appeared in history journals such as the Pennsylvania Magazine of History and Biography, Pennsylvania History, and the Proceedings of the American Philosophical Society. He, in fact, served as an executive officer of the American Philosophical Society. He also served in the Second World War from 1943 to 1945.4
Bell is still in contact with the College, still resides in Carlisle, and is a leading and energetic light for the Hamilton Library.
Elizabeth McGuiness

---
Notes:
1) Sellers, Charles Coleman. Dickinson College: A History. Middletown, CT: Wesleyan University Press, 1973, p.583.
2) Dickinson College Course Catalogues, 1949-50 and 1996-97
3) 1953 Microcosm, Dickinson College Yearbook
4) Drop File on Whitfield Jenks Bell, Jr. Ph.D., May Morris Room, Dickinson College Archives.

---