Donkeys, Gondolas and Beggars: The Himes Family Tours Europe
by Maureen McIlhaney


On the last day of an unusually hot June in 1872, Charles Francis Himes, 33 years old, accompanied by his wife Mary Elizabeth, often called Moll, his 3 year old daughter Mary Murray, called Mamie, and his sister, Helen, left the Carlisle train station on the first leg of their journey to Europe. A large crowd comprised of Dickinson College students, staff, and the high society of Carlisle, of whom the Himeses were a part, gathered to cheer them on their way. A three month trip through Europe was unusual, exciting, and adventurous.
It was also in character with Charles Francis Himes, who had already lived and worked in some of the most fascinating and controversial places and fields of the 19th Century. From his involvement in the Kansas-Missouri area during the unrest proceeding the Civil War, to his visit to the battlefield at Gettysburg soon after the battle, to his passionate interest in the young science of photography, Charles Francis Himes was a man on the cutting edge of his times. His involvement in so many of the major events of the 19th Century make him a very worldly traveler, an attitude he imparted to his family, although they seem to have had an enthusiasm which he in some cases lacked. They were, however, firmly entrenched in the mid-Victorian world-view, and were firmly mentally aligned with the Germanic and British people, to the extent that Charles, at least, makes slighting remarks about Italians. They were also firmly upper class and, although they followed the philanthropic urges that were in vogue at the time, they clearly considered poverty to be the fault of the poor person, rather than the fault of the society which created it.
Charles Francis Himes was a professor at Dickinson College, and it was neither his first nor his last trip to Europe. Previously he had studied at the University of Giessen in Germany, and he and his family would return to Europe again in 1883, 1890, and several more times before his death in 1918. In his passport application from May 31st, 1872, he is described as being 5'8" tall, possessing a medium forehead, a large nose, grey eyes, an ordinary mouth, round chin, light hair, a fair complexion and an oval face. It is noted in the passport that he will be accompanied by his wife and minor child. Apparently they did not require separate passports. Helen Himes is not mentioned, however, so her status as an unmarried woman apparently made her a autonomous legal entity.
On this occasion both Charles' and Moll's parents traveled with the group to Harrisburg, where they parted - the four grandparents to return to Carlisle, the travelers to continue to Jersey City. The parting scene can only be imagined, but notes left by Charles indicate that there was a great deal of consternation among the grandparents about the inclusion of three year old Mamie on the trip. Perhaps they made a last ditch attempt to convince the Charles and Moll that their little daughter would be safer left behind. If they did try, they did not succeed. Mamie continued on with her parents and her Aunt Helen. It seems likely from notes in Himes journal and the book he later wrote for Mamie about the trip that Aunt Helen was along primarily to provide childcare, as she spoke none of the languages that would be needed on the trip and is constantly mentioned in connection with Mamie.
The next day the travelers took a boat to New York, where Mamie amused herself watching passers-by from the window of the 'Astor House'. This hotel may in fact have been the Astoria, built by the famous Astor family and later renamed the Waldorf Astoria. Given that the hotel was famous for its luxury, it seems the Himes family was determined to make the most of their trip from the very start.
Although there is a brochure for the Inman line from 1872 in the Himes collection, it is not known if the family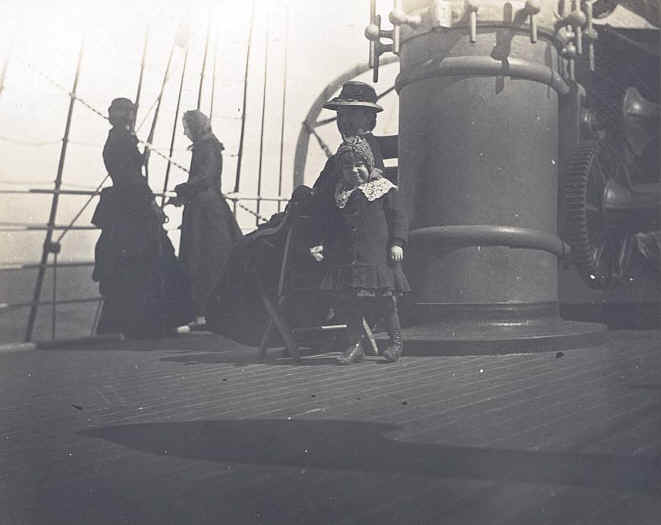 actually sailed on this ship. The rates for a round tip on the Inman line were $135
gold for an inside cabin, meaning one with no windows, and $150 gold for an outside cabin. A one way ticket was either $75 for first class or $50 for second class. Since later remarks show that everyone on the trip was susceptible to seasickness except Moll, they probably took outside cabins. Although we do not know whether the ship they sailed on was part of the Inman line, it was called the Calabria, and it made the crossing from New York to Liverpool in about a week. The actual length of the crossing isn't possible to determine, since Charles' journal for the 1872 trip doesn't begin until July 15th, while Observations of a Tot Traveler states that the family was already in Liverpool by July 10th at the latest.
In Observations of a Tot Traveler, a book compiled by Charles for Mamie in 1890, he states that on the 4th of July the family was entertained by singing sailors and a game of quoits, which was played with rings. Mamie made friends with one of the ship's officers, who had a daughter at home. He played with her, read to her, and gave her fruit to share with her family. Mamie appears to have been a very lively child. When Mamie's officer wanted to give her a kiss, she first demanded that he give Aunt Helen a kiss as well, a sentiment that might have been appreciated but was certainly not proper for a young lady like Helen Himes. Helen is the most enigmatic figure on the trip. None of her letters or documents are to be found in the Himes family collection, and notes about her in the letters, journals and Observations are few. We know that she was either a very small person or a fairly weak one, as she later rode the same donkeys that Mamie did, although Moll walked with Charles in most cases.
In Liverpool the family stayed in Washington House, which, with its statue of George Washington in the front hall, seems to have given them a taste of home. This was a pattern that they would later follow in Europe, especially once they reached Italy, where no one spoke the language. The comfort of American or British style hotels gave them a chance to relax and be apart from an alien culture for a while. While in Liverpool Mamie was greatly impressed by the swans in the park and the Punch and Judy show, which involved (and still does) a man beating his wife and baby until they stopped crying and yelling at him. Mamie wanted a set of the puppets. Child rearing was different in those days.
On July 11th the family left Liverpool to go up to London, where they climbed to the top of St. Paul's Cathedral and visited the Tower of London. Mamie was convinced that the models of horses in armor were in fact dead horses. The family also followed tourist conventions and visited Mme. Tussaud's Wax Museum, where Mamie "Got to see the Queen and the Prince". "There weren't any waxworks there," says Observations of a Tot Traveler, "just a lot of people dressed up and standing around." Apparently the illusion created by the waxworks was convincing. This is certainly well within keeping of the usual range of tourist activities, even for today.
On July 15th Himes Journal of 1872 begins. He says that the family took the 9:30 a.m. Underground train from Westminster Bridge for another day of sightseeing.
Then came the usual sun & bustle. I find 2nd class can accommodate us. Then the shouting and banging of the doors by guards, then the shrill screech of the engine, a rapid dart into the dark varied by occasional gleams of daylight, a slight sulfurous smell, then a sliding screeching noise of the wheels...
Observations states that the trains made Mamie "quite sick". That day the Himeses saw Westminster Abbey, where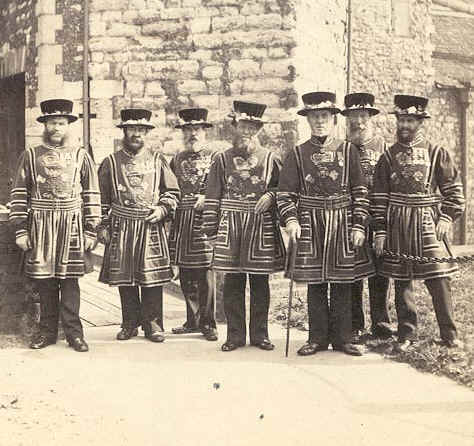 Charles approved of Poet's Corner but disliked the graves of the kings and queens, as a proper Victorian American should, considering them useless and pompous. The family also visited the House of Lords, the Strand, Charing Cross, Trafalgar Square, London Bridge, and the National Gallery. At the Gallery he states that the Murillos and the Turners were especially fine. Some photos of the works of these painters appear in Himes family Collection, and it seems more than likely that they were taken on this trip. (If this seems like rather a lot for one day, it may be. Himes did not always note dates in his journal, and not all the entries are clear or in the correct order.)
During their stay in London the Himeses also went to the Crystal Palace, which Himes described as having a "Barnamish air". Although the Native American exhibit was 'claptrap', the exhibits of Bushmen in Africa, the Alhambra and the ruins of Pompeii were 'exquisite'. What is far more likely is that all the displays were equally inaccurate, but Himes was just familiar enough with Native American customs to pick out the inaccuracies. It is in keeping with his Victorian upper-class mind set to assume that he would be able to pick out inaccuracies within displays about cultures of which he knew nothing. Charles had a very high opinion about himself and his abilities.
While at the Crystal Palace the family also saw the Camera Obscura and were weighed on a 'patented weighing machine'. Charles Francis Himes weighed in at 10 stone, 4 lbs. There is a ticket which was probably for Moll Himes which gave her weight as 8 stone, 2 lb, and Mamie weighed in at a whopping 2 stone 4 lb and 8ounces. Since a stone is 14 lbs, we can calculate that Himes weighed 144 lbs, Moll 114, and Mamie only 32 lbs 8 oz.
Observations has the Himes family visiting Oxford on the way to London from Liverpool, but Charles' journal merely states that they visited it before they left London on the 18th . Charles also used this time to pursue his photographic interests, visiting a photographer where he may have purchased photographs of various notables including Gladstone. He found the photographer's shop to be a 'dingy place'. He also went to Fleet Street to view a stereoscope and finally went to J.P. Morgan & Co. to change money. He received 25.25 francs for 1 pound British. Then the Himes family took the Great Eastern Railroad to Harwich, about which the Encyclopedia Britannica says: "with the coming of the railway, ... Harwich became a terminus for passenger ferries across the North Sea as an outport of London". From there the took a boat to Rotterdam. Passage cost a mere 1 pound. In Harwich the family stopped for a cold supper. Three year old Mamie was fretful, which disturbed a gentleman who was drinking coffee. He yelled at her, but was rebuked by Himes, who seems to have kept a fairly close watch on his daughter, and finally the man apologized.
The family went to sleep on the boat, which was called the Richard Young. It sailed at 2 a.m. The next day, July 19th within sight of land, the boat spotted a fishing boat which was sinking. A man was clinging to the mast and signaling for help. The sailors on the Richard Young put out a small rowboat and brought the fisherman on board, where "he watched his ship with a tragic expression on his face." "About ten minutes later it careened and sank". Charles describes this poor man as "medium sized, firmly knit, bronzed, not unhandsome." The boat belonged to the man's father, who was too old to work anymore. When it began to sink the fisherman's partner swam to shore, but the fisherman could not swim. Charles slipped him a half sovereign, which would have been about a week's wages. The other gentlemen "raised in addition about 6 pounds for him" to put toward the purchase of a new boat. Charles says of his own contribution, "It was cheerfully given but I hope I may never have occasion to give another."
Rotterdam had only been joined to the North Sea by means of a canal, called the New Waterway, in 1872, the same year as the trip. In Rotterdam the Himes took the omnibus to the railway, then the train to the Hague, the seat of government for the Netherlands. On July 20th they went on to Dusseldorf, where they stayed at the Hotel Zur Posh. Unfortunately information about the next few days is scanty and contradictory. It seems likely that they were sailing along the Rhine, although there is no proof for this, because On July 22nd Charles notes that the family was putting up at the Hotel Elberfeld,. At Scheveningen Mamie was impressed with the white sand, which felt good on her feet. Back at the Elberfeld the family dined with friends, one of whom was related to another Dickinson professor. Himes journal states that by July 23rd the family was in Cologne, which Himes spells Coln in his journal. This is unusual, since Charles, who was fluent in German, would certainly have known that the town was called Cologne or Koln.
On the 24th the family visited St. Ursula's Church and the zoo for Mamie, who was growing bored with "walking up and down with nothing to look at but pictures." At Laacher the next day the men were allowed to enter the Laach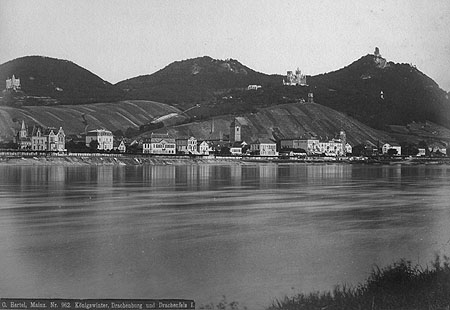 Abbey, but the women were forced to remain outside because, Mamie was told, "the monks do not like ladies." They also visited St. Appolonius' Church at Drachenfels. At Stolzenfels they rented donkeys to get up to the castle, Mamie's, "a small black affair," was named Hutch, but Helen's "was a touch larger, and very white. Both were delighted." Mamie's fondness for donkeys seems to have begun here - it is mentioned at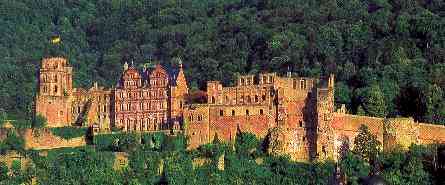 several other places throughout the trip journals and letters, and remains intact until reaching Venice, when gondolas replace donkeys in her affections. It is possible that by this time they were sailing along the Rhine, since both Stolzenfels and Drachenfels are castles along the Rhine.
By this time it was July 28th, and the family spent a few days resting in Mainz, where they visited a museum and Weisbaden, where the Kaiser was visiting. Other sources, however, claim that the Kaiser never visited Weisbaden until 1894. Certainly the city was in the throes of Marxism in 1872, with Communist sympathies in the town leading to bread riots in the following year. All of this, however, must have been very far removed from the Himeses. The most interesting thing Mamie or any of the Himes family noted about Weisbaden was that in the evenings there were women in the restaurants selling flowers, and Himes "Always buys me and Mother flowers, every night. My favorite is roses with geranium leaves." On July 31st, however, they were off again, arriving in Heidelberg the next morning. At Heidelberg Himes took Mamie through the castle, but "Moll had a bad cold and was very hoarse, so she remains at the hotel."
This is one of the few occasions where Himes mentions his wife in his journal, but from his letters home, and hers, we learn that they were in fact almost always together, even when Mamie was left in Aunt Helen's care. Himes says of the castle at Heidelberg: "An American runs mad for castles." Heidelberg was undergoing a restoration at the time, and Himes disapproved. He may not have realized that the castle was badly in need of restoration, since beginning in 1800 it had been used as a stone quarry and was only beginning to return to anything like its original glory. Charles said that Americans mythologize our past because we have so little of it. The past is:
"less profitable, more romantic, the less there is of real history the more room for imagination, just as a child casts aside the well furnished, nicely dressed doll and lavishes its time and affection on a stick of wood with a rag on it."
Himes may have been thinking of Mamie when he wrote this passage - she was apparently rather hard on her dolls. By this time one which had been bought for her in London was missing all its arms and legs and its eyes didn't open. "I do wish dolls wouldn't die," she says. The doll bought to replace it was a rag doll with no moving parts to ruin. She left it on a wagon.
On August 6 the family went to Giessen via Frankfurt. At Giessen, his old University, Himes was struck by the differences between German and American students. German students, he claimed seem superficially to be "beer drinking, dueling, study shirking, gross, jackbooted, rowdyish, and perhaps boorish," but were in fact "genuinely polite". On August 11th the Himeses left Giessen for Dresden, where they went to church as they always did on Sundays, finding an Anglican community in the hotel.
This, along with some of the hotel names, again reinforces the idea that the Himeses sought hotels that catered to the English and American tourists. In fact in Dresden they stayed with an American family called the Emersons, who had several small children. It is uncertain if the Himeses were acquainted with the Emersons previous to the trip. In his journal Charles sometimes notes meeting people on trains who gave him their addresses and invited the Himes family to stay when they reached their destinations. Next the family visited Leipzig (spelled Liepsic in Charles' journal), where Charles bought Mamie a canary. Since no further mention is made of the bird, its fate is unknown. It is unlikely that it traveled with them in the carriage, but it seems equally unlikely that they simply let it go after a few days. This is linked in with the mystery of what the Himeses did with their numerous purchases. They seem to have bought everything from olive wood kitchen sets to velvet gowns to Venetian glass, and yet it is often noted that Himes would go off to reconnoiter a new city or find a decent restaurant and leave the women to manage the baggage on their own. They could have used porters to move all their things, but it seems unlikely that they could have fit everything that they purchased into a carriage, much less have carried it without the aid of two or three people, or a wagon. Most things were likely shipped home to Carlisle, or perhaps to the home of Moll's parents, the Murrays, to whom the Himes family seems from their letters to have been closest.
On August 15th the family went to Berlin, where, except for a day trip to Potsdam to see the Palau Potsdam and the Palau San Souci, they remained until August 21st. Potsdam at that time was the royal city palace and summer residence, although later both the Sanssouci Palace and the New Palace (or Kaiser's Palace, as Charles calls it) were to be destroyed during the First World War. This is especially ironic when we read in Charles' journal about the elaborate care that was taken of these palaces. For instance, in the New or Kaiser's Palace the Himes family were forced to wear slippers to prevent scratching on the floor.
On August 22nd they arrived in Munich. Himes's journal entry for that day begins "Alas the changes!" At the Café Probst in Munich he was given an "unpoetic cup and saucer instead of glass thimbles of yore. Pretty waiter girls gone to some better market." The beer mugs were smaller, which Himes seems to have blamed on the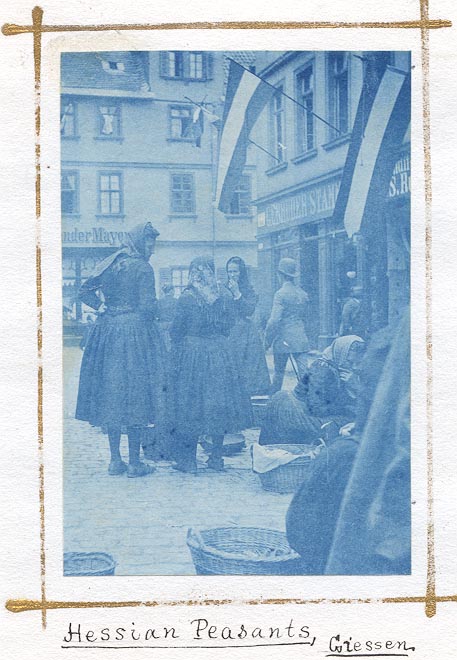 introduction of the metric system, but the crowds still watched the rafts on the river. On the 24th the family attended an opera in Munich based on the biblical story of Joseph. It seems to have impressed them all, especially Mamie, who had to be forcefully restrained from getting up on stage to play with the actors in the pretty costumes. Mamie here notes that the conductors on the trains "do not like lap dogs or little girls." When the conductors came around to take the tickets Mamie would always have to sit on Moll's lap. A lady who traveled in the same car with them had a small white dog, and she would cover it with her cloak to avoid notice.
On the 26th the Himeses left Germany for Italy. A letter dated August 27 was later published by the Carlisle Sentinel.
In order to take an express train, as well as to see the Brenner Pass by daylight, we took the cars at Innsbruck at 3:38 yesterday morning, which necessitated our getting up at 2:30... At Steinach we saw the first snowcaps... on the pass we suffered much from cold, although we all had our wraps on. Mamie and Moll seemed to suffer the least. Icicles formed on the windows of the cars, preventing us from enjoying the scenery.
Mamie noted that "Mama always puts a brodchen in her pocket, for me to eat in the cars." A brotchen is a small hard roll.
Italy was a very new nation, in much the same way that Germany was. Both had only recently become unified, Italy in 1860 and Germany that very year, in 1872. Italy, especially, was still plagued, as it is today, by factionalism and poverty. The Pope was not only a spiritual leader but a temporal one, and his tyranny was legend in Europe. Starvation of peasants and a very feudal system were still the hallmarks of the Papal States, which had only been finally surrendered to the control of the nation in 1870. It would seem that a self proclaimed historian like Himes would have made some comment on these matters in his journal, but he does not.
Himes was unimpressed by Verona, declaring that it was very slovenly and "all that seemed of particular merit [was] the fruit." From Verona they went on to Padua and Venice, where they took a gondola to the hotel. The entire family seems to have adored Venice.
Every circumstance conspired to add interest to the event. No rattling cabs, no jolting and shaking, nothing but the liquid splash of the oar... and occasionally a song from some individual or party on a gondola or in the houses.
In fact, Mamie was so enamored with the gondolas that she made plans to introduce them into America. She wanted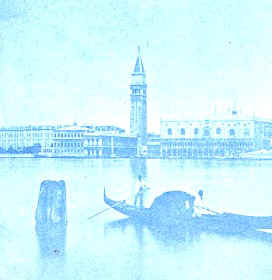 to sail them up and down the alleys of Carlisle. They totally replaced donkeys in her affections. Until then Himes states, donkeys had been her "ne plus ultra of personal transportation." In the Carlisle Sentinel of October 10th a letter by Moll Himes says that the morning after their arrival the family all went to the Piazza di San Marco, where Mamie fed the pigeons and everyone else visited the Doge's Palace and the Cathedral. "Old, the Palaces do seem, to be sure, but they seem to be still living." Moll writes that St Marks':
"seems something of a disappointment... it seems squatty for a Cathedral, and more oriental than the others we have seen... Of course we found the hole in the wall, the lion's mouth so called, in which secret denunciations were formerly placed."
The next day they visited Murano for a demonstration of glass making. On August 29th the family moved on to Florence via Bologna, where Himes scientifically explained the concept of 'leaning towers' to his fascinated fellow travelers. He writes "we took genuine bologna sausage as part of our lunch, and found it quite palatable." Here we see again, as in the comment about the only good thing in Verona being the fruit, that Charles was a lover of German and Northern European culture and language, and held Italy in low esteem.
The rest of the family do not seem to have shared this attitude. Moll was delighted with Italy, a sentiment her letters to her parents clearly reflect. In Florence for the first time the Himeses indulged in the Victorian custom of hiring a commissionaire, or professional personal tourguide, to show them the sights. This was necessary as none of the family spoke any Italian. They saw the Pitti Palace and the Uffizi gallery, which both "surpassed all our fondest expectations". They also visited the tomb of the Medicis and the gorgeous Santa Maria delle Fiores. Moll wrote home to her parents that "I cannot refrain, just here, from stating how gratified I was with Michael Angelo's two monuments of the Medicis, especially of Lorenzo Medici."
On September 1st the Himes family took a flying visit to Rome. There had been some doubt as to whether they would go at all, since it was out of the way and they had been repeatedly warned not to visit Rome in summer. However, they found it delightful. They saw all the major Greek and early Christian sites, including the Colosseum, the Baths of Caracalla, the Arch of Titus "with the unmistakable seven branched candlestick...", the Forum, St. Peter's, the Capitol, which they found to be a hard climb, the Vatican, and the Pantheon. On September 3rd they visited the Vatican Museum, where Mamie enjoyed the costumes of the Swiss Guard, and Himes apparently bribed someone in order to see the Pope. There are no notes on this Pope sighting, however, so it may have been something as simple as a glimpse of the Pope at a public appearance. The Himes family again showed their identity as upper class Victorian travelers very clearly in their selection of tourist attractions and their comments about them. Like all Victorians they were deeply impressed with the classical civilization. They were also strongly Christian, and delighted in visiting the former center of Christendom, although, like the good Protestants they were, they did not quite approve of the Catholic pomp that surrounded them in Rome.
For instance, in Rome they stayed at the Hotel Della Minerva: "It is an old palace, is very large and highly ornamented and is very well kept - by Jesuits..." says the October 3rd letter in the Carlisle Herald with an air of slight disapproval. Catholicism was a slightly suspect tourist amusement to the Himes family, although they showed no open disrespect. In fact, Mamie liked the Catholic Cathedrals because they had chairs instead of pews and people could walk around during services.
The Himes family left Rome on September 4th and went through Leghorn and Pisa on the way to Genoa, where they took a steamer for Milan. Himes says of this journey that they:
Saw [a] date palm in a garden on road to Civita Vecchia. Bot [bought?] Florence flask of vinegar - doubtless sold as wine - on the road from Civita Vecchia to Leghorn. Beautiful ride out of Rome as Rail Road line goes half around it [Rome].
In Pisa the family was very impressed with the Leaning Tower, Moll declaring that "No one who has not experienced can understand" the feeling of looking over the side. Mamie was chiefly struck that due to the narrow roads and the fast speeds at which the carriages all went, there was an accident which upset everyone and broke off the carriage lamps. From there it was an easy trip to Leghorn, where they boarded a ship for Genoa. Charles' journal notes that there was a:
Beautiful sunset & fine... band in a war vessel as we sat on deck of Toscana bound for Genoa - not very comfortable until after sundown. Boatman (who ferried them on board) charged 6 francs - I asked officer of vessel [if this was correct] but he seemed indifferent so I paid the six & got rid of the fellow. Hunted up water for Helen and Moll to drink. Very warm. Finally stirred up steward. He made the bed for them & actually brought ice for their water.
Mamie also comments on the water in Italy as being "very warm and dirty, but I like it better than beer."
At Genoa Himes continues:
Custom House officer did speak English, German & Italian - he pointed to a bundle in carpet bag, which contained Mamie's old shoes, I pointed to my shoes and that ended the matter. Got a Lachino to take carpet bag to depot, thinking it nearby - he walked ahead and we after for near a mile, sun warm & shining on us part of the time - gave him a franc - left Moll & Helen standing guard over baggage & found restaurants nearby of promising character, went there with baggage and took what we all very much needed - Coffee, bread and butter, warm milk for Mamie, as we had no supper night before as we were rushed to boat from railroad. The Cabman, overcharging me, I knew it, but he showed me his tarifa card which of course I couldn't read shirked way out of dilemma. Genoa wandered around the street, it seemed full of palaces - took sorbets, found it water ice, at Café Concordia. Admired a fountain in a palace courtyard, then went a square further and concluded we'd better take a hack to find a banker, took one and found ourselves at same palace... [The] Statue of Columbus [at the] depot square very fine, depot ditto.... [Genoa has] very narrow streets with steps - clothes lines stretched across & clothes drying.
From Genoa they went on to Milan, where Moll declared in a letter to her father that:
Of all the Cathedrals that we have seen, this one at Milan, begun in 1386, is the most to be admired... the outside is like fairy work or frost work in marble, and the interior is peerlessly grand.
They completed their visit to the Cathedral by climbing up to the roof. Moll gives the impression that it was there that the family also viewed Leonardo da Vinci's fresco of the Last Supper, but presently it is housed in the Convent of Santa Maria delle Grazie. At Milan they took a diligence, a kind of carriage apparently common in Europe but novel in the United states, which Moll described as being "a cab with another cab in front a little higher up, and a buggy away up behind - the driver's seat being up in front of the high cab." Diligences were drawn by four or six horses. Charles called them "A pleasant,& rather romantic, as well as novel ride."
At Lake Como they took a boat from one side of the lake to the other, where their hotel was placed. Charles wrote of Lake Como:
Como a green lake, hardly blue green even, not blue as often stated. Beautiful... pond as composed with Swiss scenery. Lots of pilgrims aboard, most got off near Candenabbia - On they went, singing in boats, or singing in processions, not being able to speak the language of the country I couldn't say exactly where they were going, or if all the same way... Got to Ballagio about 10:30 a.m., went with baggage to the Hotel Gavozze, left baggage & said we'd take lunch, went to Serbellino Garden - Beautiful view of Lake Liceo... Moll got her much longed for olive leaves - got olive wood articles - mailed letter home for self & Helen. [We] watched fish playing in lake from Hotel porch - all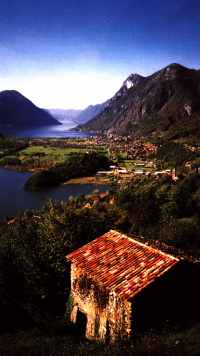 sizes, some several feet long - Mamie cried because they were shooting them.
In modern pictures the lake is decidedly blue. Perhaps an especially dry summer or Victorian pollution caused the lake to change? The custom of shooting fish seems to be a rather strange one, but apparently Himes was aware of it, although Mamie was not.
On September 8th the family took a railroad from Lake Como to Calieo, where Himes says that the "ale was good & cheap - only thing about Calieo tolerable." From there went on to Chiasenna, Bellogio, Splugen, and finally arrived in Bad Pfaffers on September 10th. The road to Bad Pfaffers is noted by Moll in a letter home as "Of all the fearful places we have been... this was the most fearful ride we have taken."
Apparently the path through the steep gorge was too narrow for the carriage to be driven, so the driver had to lead the horses on foot. From the carriage window the passengers could look directly over the side of the cliff. The hotel in which they stayed in Bad Pfaffers was built directly on the side of the cliff. That day Himes went walking in the hills and "picked flowers for Moll." However, that night Moll reports in her October 10th letter that:
Mamie waked up, dreaming that her doll, purchased in Milan, had been taken from her, and as she seemed so anxious or concerned lest someone might have gotten our bundle by mistake... C got up, unpacked it, and gave it to her in bed.
It is likely that other things were disturbing Mamie besides her doll, as in Observations of a Tot Traveler Charles notes that she was very concerned with the numbers of beggars in the mountains.
There are ever so many beggars on these mountains, and they all run after our carriage, and say prayers, and ask for soldis and sous. One time there were six little children running after us, and the driver got off and cracked his long whip, and told them he'd put them in the box [on the back of the carriage]... They ought not to be begging this way - they're too little.
Here again we find a very Victorian upper class mindset. The children probably had no other way to get money; they were living in a tiny village that probably was still engaged in subsistence farming. The fact that it is Charles writing Observations, as filtered through Mamie's words, makes the opinions expressed therein his, unless they are a direct quote from Mamie. The image of the Himeses driver whipping little children to move them out of the way of the carriage is especially distasteful. It is unnerving that Mamie was the only one whop found this sight uncommon enough to comment on, even if it is her father who is later remembering her words and recording them.
On September 11th the Charles Francis Himes purchased tickets to Zurich and Lucerne. At Zurich Mamie was intrigued by the sight of a group of little girls, "bathing in their old clothes." She wanted to swim, too. However, "Mother... hadn't brought any of my old clothes along. Next time I come to Zurich I shall bring old clothes so that I may bathe, too." At Lucerne the family went up Rigi on the 12th and Himes amused himself with could watching. He mused on the reasons behind the motions of clouds:
Watched a cloud in rapid motion & still not progressing - a seeming paradox but a beautiful phenomenon - a current of warm air flowing past a peak full of rifts filled with snow had its moisture condensed to cloud - flowing on it met a warmer dry current of air and was picked up - moving from nowhere, ending point always moving on with [grace]... it was as beautiful as it seemed inexplicable.
That night at Rigi the family could hear the alpine horns signaling for sunset and sunrise. These huge horns had a tone that could carry for miles and were rumored to occasionally cause avalanches. Also in Lucerne the Himes family visited the famed Lion of Lucerne, a sculpture that greatly impressed Mamie, although from the entry Himes penned for her, she thought it was not sculpted at all, but merely asleep. "Spears can't hurt such lions," she is quoted as saying.
On September 14th the family moved on from Lucerne to Geneva, where they rested on the 15th. The 16th saw
them cross into France at Chamounix and make a brief visit to Villaneuve, before returning on the 19th to Geneva where Himes completed a transaction for the purchase of a collection of rare minerals for the College. On the way back across the mountains they stopped off for a donkey ride up the Mer de Glace and a view of a goat-like creature called a chamois by Himes, which gave no milk. On September 20th the family was in Strasbourg, where they saw the Cathedral with its oversized cuckoo clock and a monument to Maurice, Duke and elector of Saxony, who Charles particularly admired.
Now entering the last stage of the trip, the Himeses entered Paris on the 21st of September. They visited the Arc de Triomphe, Notre Dame, and Napoleon's tomb. They also went shopping. In the Himes collection an add for a an exclusive children's store in Paris is preserved - a mention in Charles' journal confirms that Aunt Helen took Mamie shopping there on September 23rd.
Finally on September 25th the Himes family returned to London. The Channel crossing was very difficult for everyone except Moll, who suffered no ill effects. Mamie was so violently ill that Himes placed her in his own bunk with a large basin to be sick in, and himself lay on the floor. After the several pleasant voyages the family had taken on their trip this must have seemed a less than ideal end.
However, they recovered well enough to make another visit to Westminster Abbey during their overnight stay in London, and then arrived in Liverpool on September 29th. Moll purchased a copy of Good Wives, the sequel to Little Women, by Louisa May Alcott, to read on the voyage back.
The return voyage was aboard the Royal Mail Ship Abyssinia, which sailed on the 30th of September. Some of the menus for this voyage have been preserved in the Himes collection, and we can see that they family enjoyed a wide, if unusual range of dishes including such delicacies as:
Mulligatawny and Macaroni Soup,
Calves' Head Bacon & Brain Sauce
Rabbit Pies, Stewed Giblets & Rice
Sea Pie
Pig's Head
Ham & Tongue
Mutton & Currant Jelly
Squabs on Toast
Lamb's Head Mince
Giblet & Sardine Soup
Brisket of Boiled Beef & Cabbage
For dessert the family could enjoy the culinary delights of:
Rhubarb & Plum Pies
Scotch Cheese Cakes
Preserved Ginger
Prunes
Despite what seems to modern eyes to be the best efforts of the ship's cooks, the Himes family arrived safely in Carlisle, where they were met by a large group of Dickinson students eager to welcome back their long-absent professor and his family.
The route taken by the Himes family in 1872