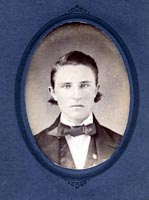 Charles Francis Himes: The Student
by Mark Fifer
Charles Francis Himes: photographer, scientist, historian, administrator, educator and most importantly student. Throughout the long and distinguished life of Charles Francis Himes (1838 - 1918) one aspect which remained constant was his steady and sometimes relentless pursuit of knowledge. This educational journey took Himes to many different places, giving him the opportunity to experience a wide variety of people and cultures. In effect, Charles Francis Himes was a student all of his life, as he made great efforts to sustain his intellectual vitality even after he had completed his formal education. Through a close examination of Himes' life it becomes evident that he viewed education as a perpetual process in which an individual should constantly learn and experience new and different things. This strong emphasis on education was most likely instilled in Himes during his adolescent and young-adult years when he attended the New Oxford Collegiate and Medical Institute and then Dickinson College. The time spent at both of these institutions molded Himes' intellectual pursuits and accomplishments until his death in 1918. Thus, by studying Charles Francis Himes' early life as a student, we also study the life of Charles Francis Himes as a photographer, historian, scientist and educator.
The New Oxford Years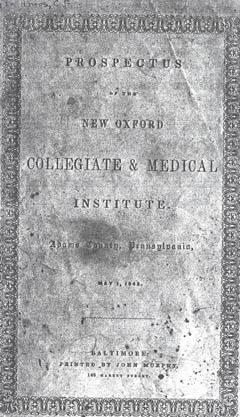 New Oxford Collegiate and Medical Institute Prospectus
In 1846, after moving to New Oxford, William D. Himes and Magdalen Lanius Himes enrolled their son Charles Francis Himes into the New Oxford Collegiate and Medical Institute. This school, in the heart of Adams County, was directed by two well respected individuals, Edward Armin Sieker and M.D. G. Pfieffer. Both of these men were praised highly for their intellectual capabilities and general ability to shape young men into "gentlemen." N. Dodge exclaimed, "Edward A. Sieker's deportment as a gentlemen; his skill and faithfulness as a teacher; and also his general character in this community are such that it is with much satisfaction that I give a testimonial in his favor, as a gentleman unusually well fitted to engage in the arduous and responsible duties of the education of youth."1 M.D. G. Pfieffer is depicted as an equally capable man, as residents of New Oxford recognized him for his dedication as a practitioner (doctor) in Adams County and his degrees from both the University of Berlin and the University of Prussia.
The New Oxford Institute was split up into two different departments, with Sieker directing the Collegiate Department and Pfieffer directing the Medical Department. Sieker's main goal for his students in the Collegiate Department was the preparation "for various classes in College, or for general usefulness in life."2 Conversely, the Medical Department sought to prepare students in medicine, stipulating that in order to complete "this course, students will have to attend lectures during two successive winters, of one of the city Medical Colleges."3 In terms of tuition, the Institute cost ten dollars for a summer session, fifteen dollars for a winter session, five dollars each for a session of German, French or Drawing and twenty dollars for a session within the Medical Department. It appears as if the New Oxford Collegiate and Medical Institute was a fine place to pursue one's secondary education. The school's 1843 prospectus states,
"The natural advantages of New Oxford as a site for the Institute are prominent. A pleasant and quiet village, in the centre of a fertile and well cultivated country, its convenience of access from all parts of the union, and its proverbial salubrity at all seasons of the year, are advantages rarely combined in any town in the country. Seated in a small village, . . . New Oxford combines great advantages of perfect retirement with ready access; and from the small number and character of the population in Oxford, there are few or no temptations to vice or extravagance."4
All indications appear to reinforce that the institute in New Oxford was regarded as a place in which young individuals could successfully develop their intellectual capabilities.
Charles Francis Himes was enrolled initially in the Collegiate Department, under the direct tutelage of Edward Sieker. The curriculum for this school was extensive, as it sought to prepare students for the challenges which they would meet when they entered college. There were eight different areas of study within the Collegiate Department; these were English studies (reading, penmanship, geography, grammar, book-keeping, history, philosophy, chemistry, physiology, elocution and orthography), Mathematics (arithmetic, algebra, geometry, mensuration, surveying and civil engineering), Latin, Greek, Composition, French, German and Drawing. In studying the grade reports of Himes, it appears as if he was extremely successful in meeting the demands of these advanced courses of study. Students of the New Oxford Collegiate and Medical Institute were evaluated on a scale from one to five, with five "denoting that point, in the branches to which it is affixed, where the pupil is left to his own exertions for the acquirement of further perfection."5 During his years at New Oxford Himes especially excelled in algebra, botany, geometry, grammar and writing, as he received a four or higher in all of these subjects. Areas in which he needed further development included Greek, geometry, Latin and Universal History.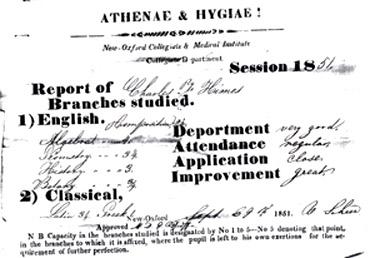 One of Charles Francis Himes Grade Report's From New Oxford
Himes is depicted as an extremely conscientious and capable student as his deportment, attendance, and level of improvement were all given the mark of "exceptional." Later on during his time as a student at New Oxford, Himes wrote several speeches on various different subjects. These orations demonstrated the well-rounded education which Himes received during his time at the Institute, as they were very well written and logically conceived. Perhaps the most notable of these speeches was one which was entitled "The Character of Washington." Within this oration Himes asserted that Washington was indeed an American hero, pointing to his "courage" and "modesty" as essential attributes within any successful leader. Himes stated,
"As long as civilization and humanity have a realm or place on the earth; as long as the ideas of Liberty and Fatherland will hold any value, so long will- if historical recognition shall live among men– the name Washington stand resplendent in the temple of glory."6
Through close examination of Himes' early life it becomes clear that Himes had a positive educational experience at the New Oxford Collegiate and Medical Institute. The extensive and advanced curriculum instilled in Himes at a very young age the importance of a well-rounded education.
The Dickinson Years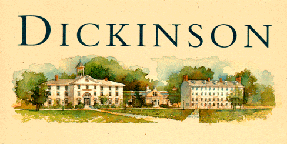 After graduating from New Oxford in the fall of 1853, Charles Francis Himes was accepted into Dickinson College for the spring session at the age of fifteen. Himes' solid educational background made his acceptance possible, as it was clearly stated in the Dickinson College course catalog that "candidates for admission into the Freshmen class, must adhere rigidly to the course of preparatory studies prescribed, and endeavor to perfect themselves in these, and anticipate the studies which can be pursued to much greater advantage in college."7 In addition to his solid educational background, Himes was also given advice prior to his entrance into Dickinson by his cousin Charles A. Ebert. A student at Dickinson, Ebert made it clear that in order for Himes to gain admittance he must focus on certain academic subjects; Ebert states, "I want to see you get in our class but if you continue studying German you will not get in . . . I would advise you not to study German, but pay all attention to Latin and Greek. If you want to get in our class next year follow my advice and study nothing but Latin and Greek."8 This advice by Ebert made Himes' transition from New Oxford Institute to Dickinson College one which was unproblematic and effortless.
The college year was divided into two sessions, the first beginning in early September and ending after Christmas and the second beginning in late January and ending in mid July. The tuition for the first session was thirteen dollars and the tuition for the second semester was twenty dollars. In addition to this there was a one dollar fee for use of the library, a two dollar fee for the use of recitation rooms and a two dollar fee for janitor services. Room and board ranged from an annual cost of eight to ten dollars for room and ninety to one hundred dollars for board.
As was the case with so many other colleges and universities, scholarships were essential, as many of the students found it difficult to pay full tuition. Students had the opportunity to obtain twenty five dollar annual scholarships which would significantly diminish the overall cost of attendance. The funding for these twenty five dollar scholarships came from a new scholarship plan initiated in the fall of 1851. This plan approved the "selling of a large number of cheap scholarships in order to increase the endowment to $200,000."9 As a result of these monetary constraints Dickinson had strict policies with regard to management of student funds. The Dickinson College course catalog from 1854 states, "as economy is essential to the moral and literary character of the institution . . . the greatest care will be taken to restrict the expenditures of students."10 Consequently, all students were required to select a member of the faculty to take charge of their funds and disburse them when necessary.
Charles Collins, president of the College from 1852 - 1860 directed an administration that was regarded as fairly strict and rigid. A statement from the 1854 course catalog reinforces the administrations apparent rigidness, as it asserts "it is resolved that incurable indolence, bad morals and pecuniary extravagance shall not be suffered to remain to exert their corrupting influence within our walls."11 Despite the fact that Collins directed a strict administration, his tenure as president did bring about substantial improvement in many areas of the College. For example, "Collins proposed an extensive building program, including a dormitory west of West College, and a gothic chapel between East and West Colleges."12 In fact, upon his resignation from Dickinson Collins was pleaded with by college officials to remain as president. James Henry Morgan states,
"Collins resigned in 1860, at the close of eight years of service. His going was greatly regretted by the Board, and they said in generous fashion that the College under him had 'prospered in an eminent degree.' . . . Collins was a manly man, able and willing to do a full man's part."13
All indications reinforce that despite his rigidness Charles Collins was a very capable president, as he undoubtedly improved the status of Dickinson College during his tenure.
When Himes entered Dickinson in the spring of 1853 the curriculum was similar to the one which he had grown accustomed to during his years at the school in New Oxford. Freshmen were expected to study Latin, Greek, Mathematics, English and Natural Science. Classes in religion were added during sophomore year, French was added during junior year and Spanish, Italian and Hebrew were added during senior year. The main goal of the language professor's at Dickinson was to "carry on conversation with the class in the language which they were studying."14 Of special interest to Himes was the Natural Science department. Aside from the general recitations and lectures the courses in Natural Science were accompanied by illustrations and experiments. The 1855 Dickinson Course catalog states,
"The facilities of this department [Natural Science] for full and efficient instruction are unusually ample. The Apparatus is extensive and valuable, and is annually increasing."
The science facilities at Dickinson College appear to have be a strength of the institution during Himes' time as a student. Himes most probably benefited not only from these quality facilities, but also benefited from the experiments which supplemented the general curriculum. Overall, it appears as if the curriculum at Dickinson was both challenging and extensive, as it covered a wide variety of academic areas.
These classes were taught primarily with the aid of a text book, being supplemented by "means of recitations, accompanied with lectures on such appropriate subjects."15 In terms of evaluation, students were graded through "public examinations, in their own language and without the aid of the instructor; . . . thus cultivating at once the powers of memory, thought and speech."16 Himes, all throughout his time at Dickinson was extremely successful in all of his academic endeavors. He maintained a course load which included Ethics, Natural Science, Philosophy, Ancient Languages, Mathematics, and Modern Languages. In studying all of Himes' monthly grade reports, it becomes evident that he especially excelled in Natural Sciences and Mathematics, as every semester he received the highest grade of four in both of these subjects. The superior knowledge which Himes demonstrated in these academic areas set a precedent for the success which he would enjoy as an adult. Himes' solid background in Natural Science and Mathematics would propel him on to various positions in which he was responsible for teaching these subjects. For example, in 1860 at the young age of twenty-two, Himes became a professor of mathematics at Troy University, in Troy, New York. In addition to this, Himes would return to Dickinson College as a professor of Natural Sciences in 1865. The base of knowledge which Himes accumulated in both Mathematics and Natural Sciences while at Dickinson College propelled him on to various positions in the professional world.
Aside from his academic life, Himes also appeared to enjoy the general atmosphere of the College. Himes on numerous different occasions in his correspondence to his parents and sisters speaks of his fondness for Dickinson College and the surrounding Carlisle area. In a letter to his sister, Himes stated, "I like Carlisle and the college very well, the campus looks beautiful. And Carlisle is the most beautiful town in one respect of any town I know - the shade trees all along the streets are the finest shade trees."17 One aspect of life at Dickinson which Himes showed some concern revolved around the great number of students who came down with some form of sickness. In many of his letters home, Himes depicts a campus where chicken pox and high fevers are extremely prevalent. In a May 2nd, 1853 letter to his "Old Folks at Home", Himes states that,
"students have just signed a petition to get off this week on account of sickness as there are a great many students sick may be one half or third the diseases are chicken pox and fever bilious - some that are very sick have to be set up with all night . And when the roll is called there is a continuous cry of "Sick." They are everyday becoming more numerous . . . Should I get sick I will make for home as there are too many sick here."18
Aside from this problem revolving around ill students, Himes appears to have enjoyed all aspects of life at Dickinson. For recreation, Himes and his friends would sometimes go down to the "ball alley" (bowling) or play a "splendid game of football." In addition to this, Himes would take walks throughout Carlisle and even bought a pair of sixteen pound "Dumb Bells" to exercise with. Himes states, "I exercise every morning with them, they are recommended by Prof. Johnson for strengthening and enlarging the chest."19 East College was the residence of Charles Francis Himes throughout his time at Dickinson. He describes his room as "white washed" with "ventilators at the top of the room" and a "bed just large enough to turn in."20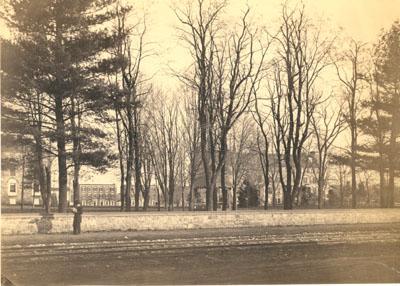 A View Of John Dickinson Campus and East College
Other activities which Himes participated in while attending Dickinson College was his active membership in both the Belles Lettres Society and Phi Kappa Sigma Fraternity. The Belles Lettres society was founded in 1786, and is widely known as one of "the oldest student literary societies in Pennsylvania."21 Himes was initiated into this group in 1853; in a subsequent letter home Himes states, "I was initiated into the Belles Lettres Society last Wednesday and went through the performance of bear riding, pole climbing etc. I suppose it will cost about $11 for initiation fee's. Badges are $ 5 or so."22 During his senior year, Himes was an active participant in the designing of the badge of the Belles Lettres Society. Feeding off his participation in the literary society Himes decided to form a new group with several of his friends in 1854. Along with three other individuals, Himes founded the Epsilon chapter of the Phi Kappa Sigma fraternity. James Henry Morgan, in his history of Dickinson College, tells the story that "as soon as the Phi Kappa Sigma fraternity was discovered, the members all haled before the Faculty, and were given one day in which to renounce the fraternity and all its works. They gave the required pledge and abstained from all fraternity participation for the future."23
Dickinson's administration feared secret societies, thus inhibiting Himes' establishment of the Phi Kappa Sigma fraternity.
At the age of seventeen, Himes graduated from Dickinson College on July, 12th 1855. As was the custom, every senior had to give one final speech upon graduation. Himes' final oration entitled "Antiquity versus The Present," compared and contrasted present times with the past. Within this speech Himes spoke a great deal about philosophy, using the ancient philosophers Plato, Aristotle and Socrates as central resources. Himes' central thesis was that the past "developed the noblest parts of man, . . . but our age puts into motion the masses, it infuses activity, it makes men equal."24 The completion of Himes' formal education at Dickinson College marked the beginning of a long and distinguished career, as Himes would go on to significantly enhance many different fields of study.
The Years After New Oxford and Dickinson
After Dickinson Himes pursued a career in education. In 1856 he became a teacher in the Wyoming Conference Academy in Wayne County, Pennsylvania and this was followed by teaching positions at the Baltimore Female College and the public schools of Missouri. Finally, from 1860 - 1863 Himes was a professor of mathematics at Troy University in Troy, New York. In addition to this, Himes did receive his masters (M.A.) from Dickinson College in 1857, as he continued to view education as an integral part of his life. Himes' final step in pursuit of his formal education came in 1863 when he made the decision to study abroad in Germany at the University of Giessen. While at Giessen, Himes was mostly enrolled in classes revolving around natural science and mathematics. In addition to academics, Himes was also afforded the opportunity to travel all over Europe and experience a wide variety of people. The education which Himes received at Giessen allowed Himes to become a truly complete person, as he not only secured training in academic areas but also obtained valuable experience in dealing with different cultures.
The education which Charles Francis Himes received at New Oxford Collegiate and Medical Institute, Dickinson College and then the University of Giessen propelled him to a wide variety of achievements in the professional world. Himes' secondary education did indeed lay a foundation for the success which Himes enjoyed as a photographer, historian and educator. All throughout his life, Himes maintained a substantial commitment to his life as a student, as he came to the realization that the process of learning never ended. This dedication to education is what makes Charles Francis Himes' life so remarkable, as he never doubted the importance of a constant pursuit of knowledge.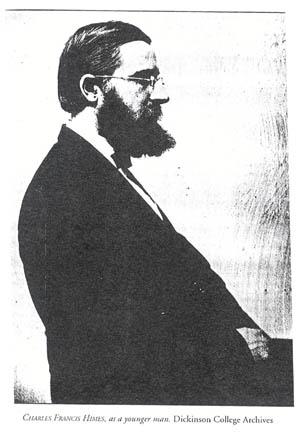 Charles Francis Himes As A Younger Man. Dickinson College Archives