Dickinson Men's Golf Team 1985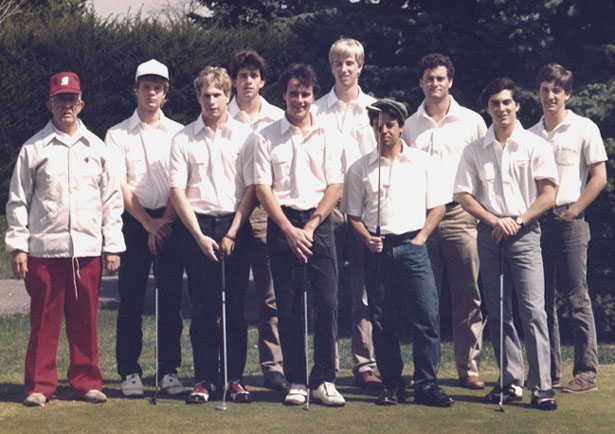 *Photograph courtesy of Dickinson College Archive
---
Front Row (left to right): Paul Evans, John Higie, Rich Barkasay, Anthony Caggiano
Back Row (left to right): Coach Joe DuCharme, Rob Beatty, Jim Leitch, Brian Richards, Chris Ruane, David Hulme
---
The 1985 Dickinson College Golf Team shown above finished the year with one of the best records of all Dickinson sports teams that year, thus continuing their own winning tradition. This team was led by senior co-captains Jim Leitch and Chris Ruane. In their last year under Coach Joe DuCharme before his retirement, they finished with a 10-5 record and a strong finish in the MAC championship in May. The highlight of the season ending tournament was the performances of this year's captains in their final collegiate golfing event. Jim Leitch carded a 73, the best score to be posted throughout the 36-hole event. This round was strong enough to guide Leitch to a top fifteen finish in the tournament. Chris Ruane responded in similar fashion, with two strong rounds allowing him to finish in the field's top ten.
1985 marked the end of an era of sorts for the Dickinson College Golf team. As noted, this year marked the last of Coach DuCharme's tenure. Joseph Gordon DuCharme arrived at Dickinson College with a master's degree from New York University in 1955 and retired in 1985 after thirty year's service; he died, sadly, in 1995.
This was also to be the last year that Dickinson home matches were played at Cumberland Country Club, with the future home of the golf team to be Mayapple Country Club. John Brown, the head professional at Mayapple would serve as the new head coach for the 1986 season. Although the 1985 team was one of the most successful Dickinson has had, they face many obstacles for the upcoming season. In addition to losing Coach DuCharme and having to adapt to a new home course, both Leitch and Ruane graduated and left a challenge for the underclassmen.
It is interesting to note the attire worn in this picture. In all intercollegiate golf matches today, it is required that khaki trousers or shorts must be worn in addition to a collared shirt. This team, while it seems as though they have a Dickinson College Golf team shirt, they quite obviously had no requirements for their trousers.
---
Sources:
1985 Dickinson College Microcosm
The Dickinsonian, 1985-86
---