Dickinson Women's Lacrosse 1980's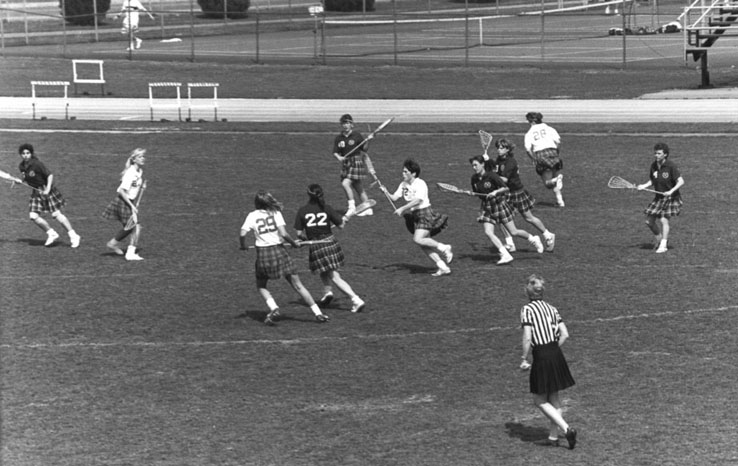 photograph courtesy of Dickinson College Archives
---
The above photograph of Dickinson women's lacrosse is from the mid 1980's, most likely 1985. The
Dickinson players are in white. This photograph was taken at Biddle Field where the women's team played on the football field till the opening of new facilities at Dickinson Park in 1996. The opponent may be Muhlenburg College. That season the Dickinson had a record of 4-8, finishing last intheir division.
In 1985 the team was coached under Lee Ann Wagner, who was assisted by Carol Cox. The Team was: Natalie Gall, Johanna Gravesen, Laurie Smith, Michele Stambaugh, Melanie Tratnick, Erica Budd, Amy Causing, Jean Frost, Kathleen Shehan, Virtue Vaughan, Ann Boehmcker, Barbra Stauch, Lisa Lowenthal (MVP), and Carolyn Aspen.
Men's lacrosse at Dickinson College began in 1950 but the first year that the college fielded a women's varsity team was 1977. For more information on the origins of lacrosse see Men's Lacrosse 1950.
David Wilock

---
Sources:
Microcosm1986; Dickinson College Athletic Department Records, Kline Center
---