Dickinson Men's Lacrosse 1980's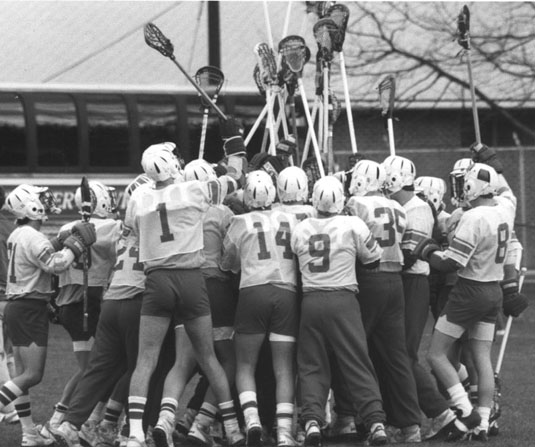 photograph courtesy of the Dickinson College Archives
---
This photograph is most probably of the Dickinson lacrosse team from the year 1986, judging from the jerseys that the team is wearing. 1986 was the first year Dickinson lacrosse wore thistype of jersey, and since they are wearing white, it can be assumed that this particular game was
played at Dickinson's home ground, across from Biddle Field.
In 1986 the men's lacrosse team had 5-6 record under head coach Wilbur Gobrecht, and his assistant Jeff Siegel. The leading point scorer at 28 points, David A. Updyke set a college record that year for most faceoffs won with 156, and Peter H. Reilly set the record for best one game save percentage with 100% against Ursinus.
Sadly, this season was marred by tragedy. John J. Buonocore was a fatal victim of the 1986 terrorist attack in Rome airport while returning from studying abroad in Italy. The deeply effected team decided to make the popular team-mate an honorary captain and gave his family John's jersey and a ceremonial game ball. His younger brother later completed both a Dickinson degree and four successful years as a varsity lacrosse man.
David Wilock
---
Sources:
Gobrecht, Wilbur J., A History of Red Devil Lacrosse 1950-1986 , Dickinson College, Carlisle
Microcosim, 1986
---