Dickinson College Training Staff 1976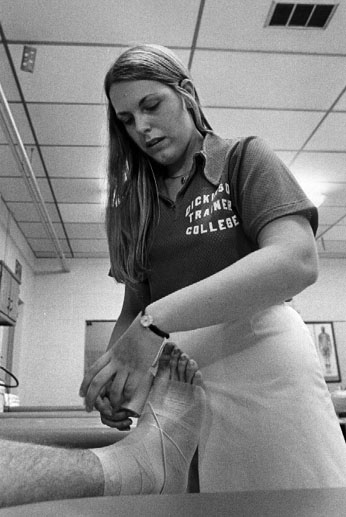 Sandra Beyer Student Trainer, 1976
photograph courtesy of the Dickinson College Archives
---
"Thank God for the Students"
This is a picture of Sandra Beyer, one of the very first female student trainers at Dickinson College, and perhaps in the nation. Miss Beyer was a sophomore at the time this picture was taken. She graduated from Dickinson in the class of 1978 with a degree in Psychology. She went on to become the Director of Health at the American College of Cardiology in Maryland.
The main task of the Athletic Trainer's office was, and still remains, the care of injured athletes as well as athletic injury prevention. Dickinson's student trainers undergo a thorough training program that shows them the different techniques of the trainer's profession. In addition, they are required to attend CPR and First Aid classes.
The very first female student trainer at the college was Michelle Wright. Her picture and her story was used in the Harrisburg Patriot newspaper in 1972 as illustration for a lengthy article about the women's liberation movement, and the direction in which it was heading. Miss Wright was hired by Dickinson's head trainer in 1972, Bruce Vogelsong. Mr. Vogelsong remembers, "The picture appeared in the Sunday paper, on Monday morning I received a phone call from the head trainer at Penn State, and he said to me: 'What is going on Bruce? Women, in the Training room?'" Mr. Vogelsong also mentioned that the sole reason behind his hiring of Shelly Wright was the need to have a female trainer rather than a male trainer to travel with the female athletic teams. Shelly Wright graduated in 1976, with a degree in History and Fine Arts. Mr. Vogelsong had been the head trainer at Dickinson College since 1963 and occupied that position until he retired in 1980.
When the college started the Sports Trainer's office, the head trainer was officially the legendary Coach "Mac" McAndrews, for whom the McAndrews' sports award is named. When he retired in 1963, Bruce Vogelsong replaced him as the college's first professional Athletic Trainer . As noted, Vogelsong left Dickinson in 1980 as emeritus trainer, and Doctor Robert Shank was hired as his replacement. Bob Shank is frank in his assessment of his predecessor's innovation: he says that "if it wasn't for Vogelsong's decision to hire student trainers specially females the trainer's office would be in dire straits to this very day."
Karim Youseff

---
Sources:
Robert Shank, Ph.D., Dickinson College Head Trainer
Bruce Vogelsong, head trainer emeritus, Dickinson College
Microcosm
1976, and 1978
The Dickinsonian
---