Women's Field Hockey 1964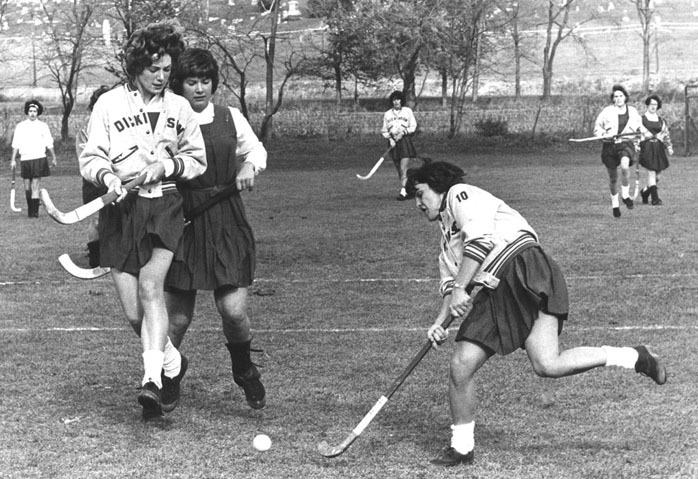 Photograph courtesy of Dickinson College Archives
---
This picture was taken in 1964 when the Dickinson women's field hockey team played against Lebanon Valley. The woman on the left is Patsy Hitchens. The woman on the right is Doris Detweiller. This game was played at Lebanon Valley, with its distincive railway tracks and cemetery in the background. The Women's Field Hockey Team went 2-5, winning only this match against Lebanon Valley and one more against Penn Hall. It was a disappointing year for the team and head coach Mrs. Katherine Barber.
Results for 1964
Dickinson 2 Wilson 4
Dickinson 1 Millersville 2
Dickinson 1 Susquehanna 2
Dickinson 5 Penn Hall 0
Dickinson 2 Elizabethtown 5
Dickinson 0 Shippensburg 5
Dickinson 3 Lebanon Valley 2
Field Hockey started at Dickinson as an intramural sport with teams representing class years. The seniors, juniors, sophomores and freshmen would all play each other for the school championship. At the end of the season a "red" and a "white" team were picked and they played a game each other. In the 1950's, following the red and white game, an "all-star" team was chosen from all four classes. The all-star team would play games against other schools like Gettysburg or against field hockey clubs from Harrisburg. In 1957, Dickinson started varsity and junior varsity teams. In 1958 the class teams were eliminated. This is how the team has worked ever since.
The modern version of Field Hockey started in England, in the boys schools, during the 19th century. By 1840, the first Field Hockey club was organized. Some of the basic modern rules were incorporated in 1886. These rules were the banning of hands, regulations on how long your stick could be, a round ball made mandatory, and a striking circle was formed. In 1887, the first women's club was organized, located in East Moseley. In 1895, the English Ladies Hockey Association was established. Miss Applebee is attributed with introducing Field Hockey to the United States. She came over to study at Harvard. While there she introduced some of the students to Field Hockey. They enjoyed it very much and soon she had other requests to teach other schools to play the game. The sport soon became very popular, especially in Philadelphia. In 1904, four women's club teams were established there. In 1907, the Philadelphia Field Hockey Association was formed. By 1920 an American team, made up of players from Philadelphia, was created to travel to England and play internationally. They were not very successful but they did learn much about the sport. On January 21, 1922, the United States Field Hockey Association was created. In 1923, the first all-United States team was formed. In 1927, the International Federation of Women's Field Hockey was formed. Since the early times in Field Hockey, it has grown to be one of the most popular sports in the world, especially for women.
Kevin McAuliffe
---
Sources
Microcosm 1957, 1958, 1964; student research paper (1992) held in the Dickinson College Archives
---