Men's Golf 1964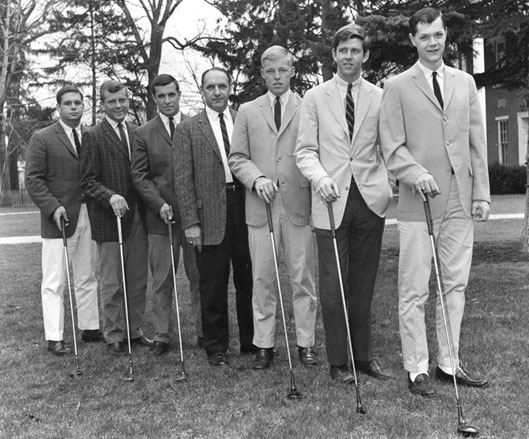 Photograph courtesy of the Dickinson College Archives
---
From left to right:
T. Rodgers, S. Hopper, C. Markley, Coach Seibert, G. Reish, B. Geist and L. Meyers
---
The Dickinson golf program in the early 1960's was perhaps the most successful branch of competition at the College in terms of wins and losses. The various teams from 1960-64 managed a combined 31-5 record. The 1964 team achieved a 9-1 record, led in scoring by its two outstanding seniors Charles Markley and Gale Reish, both of whom were members of the "D-Club" and co-captains of the team. The squad's one loss was to the conference powerhouse Franklin and Marshal. All six members of the team averaged in the low 70's.
Coach Seibert achieved a winning record that has placed him in the Dickinson Sports Hall of Fame.
The team was expected to compete for the number one spot in the M.A.C.'s, but ended up coming in seventh, although all of the schools they lost to were much larger universities. Out of the 23 teams in the M.A.C.'s, Dickinson placed first among colleges. The four players chosen to represent Dickinson in the M.A.C.'s were Markley, Reish, Rodgers and freshman Steve Hopper, now a member of the Dickinson Hall of Fame.
Here the team is pictured on the quad in front of Old West facing High Street, posing with their drivers.
Michael Goldberg
---
Sources:
All information taken from the 1964 Dickinson College Microcosm and the Dickinsonian.
---