Dickinson Baseball 1963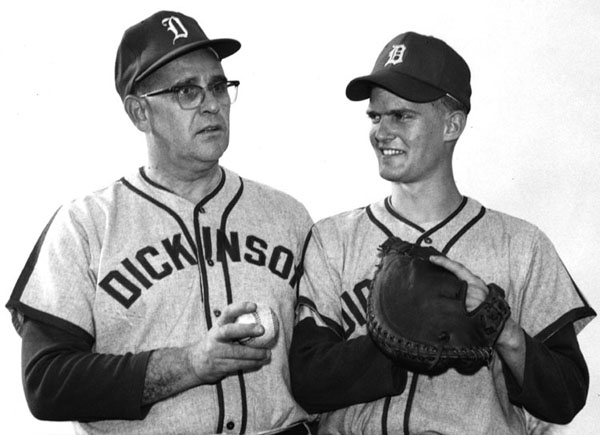 Photograph courtesy of the Dickinson College Archives
---
This memorable photo is of long time Dickinson College baseball coach David B. Eavenson and his captain for the 1963 season, Dave Chapin. Coach Eavenson's legendary career at the College was not limited to his role as baseball coach. Arriving on the campus in 1955, he also served as Athletic Director, assistant football coach, and head coach of the men's swim team and of the men's soccer team. As head baseball coach, he guided his teams to a combined 43-99-1 record from 1955-1964.
The 1963 team was not one of the College's most successful as far as records go. By the end of the season, the Red Devils had compiled a 5-10 record in the Middle Atlantic Conference, with a 6-15 record overall. Captain Dave Chapin, who had played both infield and catcher in his previous years at Dickinson, anchored the 1963 infield with his strong defensive play at second base. But Chapin was not alone in his efforts. Junior Dave Ditenhafer was one of the most outstanding pitchers in the league that year, accounting for four of Dickinson's six victories. This was good enough to earn the recognition of his teammates as he was named the team's best pitcher and Most Valuable Player for the 1963 season.
Ditenhafer and Chapin were also joined by standout Anthony "Tony" Hermann. Hermann had a fine season in 1962 during which he batted .402 (17 for 42), good enough to make him fifth in the MAC in total batting average. His 1963 season was not a letdown by any means. He continued his success at the plate batting .370 (20 of 54) with two home runs. His numbers did not go unnoticed in the Conference, as he was named to the second team all-MAC as an infielder. Joining Hermann on the all-MAC second team was Ditenhafer and Millard Shoff.
Perhaps Dickinson's most surprising play of the 1963 season came from catcher Bill Penney. His outstanding play behind the plate defensively was coupled by his high power offensive abilities. His average of .379 (14 of 37) led the team that year and was good enough to leave him in the top in the MAC in batting average. Penney was the only Dickinson player from the 1963 squad to be named first team all-MAC for his efforts.
Seth Jacobsen
---
Sources:
1963 Dickinson College Microcosm
The Dickinsonian, 1963-64
Wilbur Gobrecht, 125 Years of Baseball at Dickinson College
---