Women's Basketball 1941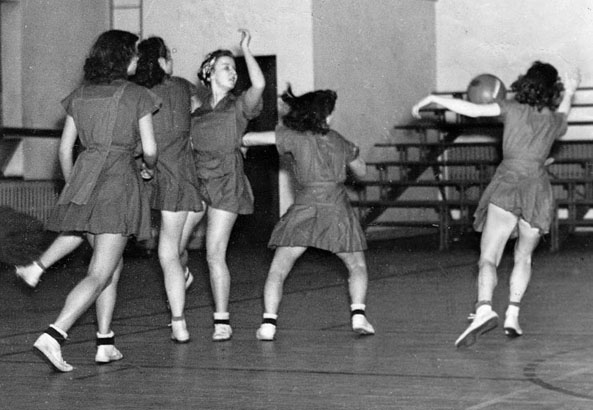 Photograph courtesy of Dickinson College Archives
---
This photograph, taken in 1941, is believed to be of an inter-sorority tournament between the Chi Omegas and the Phi Mus, held on the main floor of the Alumni Gymnasium. Seen in the picture is Susan Rohrer, a captain, Janet Thornley, Rosalie Milanik, Evelyn Fansler, Mary Jane Day and Alice Abbott. Chi Omega was one of the oldest sororities on the campus, having been organized from a local sorority in 1907. Phi Mu was instituted on campus from 1917 to 1967, when it separated from its national over unacceptable interracial policies. This annual basketball tournament provided some of the most interesting events in the women's sports programs during this time.
There had been some attempt to organize early varsity teams in basketball. The first Varsity Women's Basketball Team was in 1924. It consisted of eight women, namely:

Manager - Rose Buckson
Forwards - Mary McDermott, Virginia Watts, and Florence Speck
Center - Sara McDermott
Side Center - Ruth Tietrich
Guards - Margaret Paul, Dolly Wertz, and Rose Buckson
During the 1925 season, five new women joined the team and six returned. The captain was Margaret Paul and the manager was Elizabeth Hann. The team's coach was Ruth M. Walker. They had a record of 4 victories and 1 defeat. The record was as follows:
Dickinson 31
Dickinson 42
Dickinson 41
Dickinson 20
Dickinson 30

Gettysburg 12
Lebanon Valley 14
Shippensburg Normal 18
Temple 30 Ursinus 28
The Dickinson Women's Basketball Team has only progressed since its first season. The game has changed, as has its acceptance and its organization. The Dickinson women now compete regularly against other institutions and are now a member of the Centennial Conference, after being part of the MAC between 1976 and 1993.
Jaime Benisatto
---
Sources:
Dickinson Microcosm, 1924, 1925, 1941
---