DICKINSON BASKETBALL 1940-41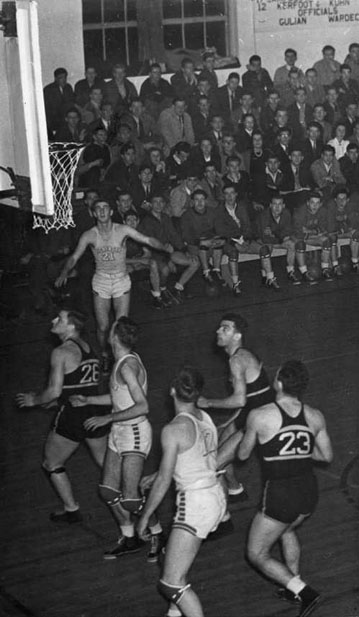 *Photograph courtesy of Dickinson College Archives
---
This photograph shows the Dickinson College men's basketball team playing Bucknell Colege at the Alumni Memorial Gymnasium (after 1980, the Weiss Center for the Arts) on the Dickinson College campus. Dickinson won the game 51-50. Dickinson players are in the white uniforms and Bucknell players are in the dark uniforms. The picture features Dickinson players #21 Bernie Keating and #12 William Kerfoot. The Dickinson player between Keating and Kerfoot has not been identified. Keating has just shot the basketball and the players are positioning themselves for any rebound. Keating, a center on the team, averaged 7.5 ppg during the 1940-1941 season. Kerfoot, a guard on the team, averaged 4.3 ppg during the 1940-1941 season. The head coach of the basketball team was the legendary Richard "Mac" McAndrews.
After World War I, Dickinson basketball slowly evolved into an established program. 1914 marked the year in which the last Dickinson basketball game was played prior to the beginning of World War I. In 1918, Dickinson basketball reemerged as Law professor, and future Dean, Walter Harrison Hitchler coached the varsity team. The Dickinson basketball program in 1918 consisted of a varsity team, a senior, a junior, a sophomore, and a freshman team. The varsity team was a compilation of the college's best players. Richard "Mac" McAndrews became the head coach of the varsity team in 1920. By 1921, the varsity team posted a 0-6 record which thus far, has been the worst record in Dickinson basketball history. In 1923, Dickinson had a 10-4 record, a dramatic reversal from their 1921 season. This squad was not only recognized as one of the best basketball teams in Dickinson history, but at the time, was regarded as one the best teams in Pennsylvania. Quality performances seemed to have become commonplace when, during the 1926 season, the varsity team finished with a 14-2-1 record.
The 1929-1930 basketball season opened a new chapter in Dickinson sports history. On January 9, 1929, the first varsity basketball game was played at Alumni Gymnasium. Over 1300 people were in attendance. Perhaps another significant season in Dickinson basketball history was the 1929-1930 season. During this season, there was only a varsity team and a freshman team.
The 1930's was a decade of mediocre basketball for Dickinson College. With a lack of talented players, Dickinson posted sub par records. During the 1933-34 season Dickinson was 8-8 and during the 1936-1937 season, Dickinson was 6-9. However, by the 1940-41 season, the "Sophomore Unholy Five" of Jack Neiman, John Campbell, Bernie Keating, William Kerfoot, and John Kennedy led Dickinson to a 10-6 record. The schedule and results for the 1940-41 season were the following:
| | | |
| --- | --- | --- |
| DICKINSON | OPPONENT | RESULT |
| DICKINSON | Elizabethtown | 49-38 W |
| DICKINSON | W.Maryland | 45-37 W |
| DICKINSON | American | 46-34 W |
| DICKINSON | Lehigh | 59-45 L |
| DICKINSON | Delaware | 49-34 W |
| DICKINSON | Gettysburg | 46-19 L |
| DICKINSON | Lebanon Valley | 47-37 L |
| DICKINSON | Washington & Jefferson | 45-32 L |
| DICKINSON | Drexel | 55-36 W |
| DICKINSON | Swarthmore | 38-24 W |
| DICKINSON | Rutgers | 57-55 W |
| DICKINSON | Susquehanna | 54-50 W |
| DICKINSON | Ursinus | 54-48 W |
| DICKINSON | Franklin & Marshall | 47-35 L |
| DICKINSON | Gettysburg | 39-37 L |
| DICKINSON | Bucknell | 51-50 W |
Josh Frederick
---
Sources
Microcosm 1920-1942
The Dickinsonian 1940-1942
W.J. Gobrecht -Associate Professor Emeritus, Physical Education, Dickinson College
---