Riding 1934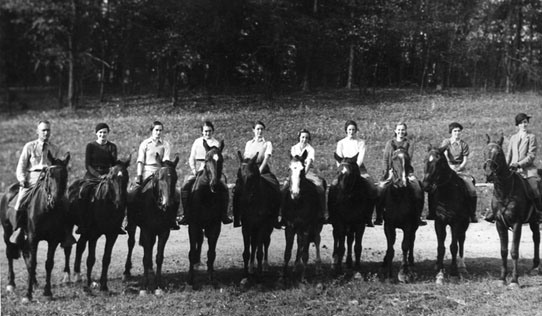 Photograph courtesy of the Dickinson College Archives
---
This is a photograph of the fall 1934 Riding Class. These women are nine of the ten Dickinson College students who enrolled in an elective taught by Lieutenant Timins of the Cavalry Barracks. The class was taught in spring and fall, with lessons on Wednesday afternoons. Lessons took place first in the ring, then extended to trail rides in surrounding mountains and woods, long rides over mountains, and day-long rides with a campfire as the finale. The horses were on loan from Troop G of the Pennsylvania National Guard.
Tentative identifications of the women suggest that this picture includes Lieutenant Timins himself, Kathryn Dunkin, Geneva Jumper, either Catherine or Helen McBride, Mary Prince, Elizabeth Dunbar Flower, and Eleanor Fell Peters. It is uncertain who took this photograph, but given the informal nature of the grouping, the tenth member of the class may have been the photographer. The picture appeared in the 1934 Microcosm, the college yearbook.
Interestingly, the sport was falling out of favor with the College as a result of its supposed "competitiveness." Stress at the time in women's sports was put on "correcting physical defects or deficiencies among the women."
Current Associate Dean Nichols of Dickinson College was involved with a more recent equestrian group on campus, the Equestrian Club. As the sport fell out of favor officially, it was demoted to a club sport for which no credit was given. The club was founded in order to allow Dickinson equestrians to continue riding outside the framework of classes. The club was funded by the Student Senate, and was a member of the Inter-Collegiate Riding Association, a geographically grouped association that promoted competition between colleges. Members of the Inter-Collegiate Riding Association must make a commitment to attend a certain number of meets every year, and to sponsor a meet themselves every other year.
It was with their own meets that the Dickinson Equestrian Club met problems. Stabling around Carlisle was scarce, and since many of the members were novice riders, most of the students had no horses of their own. To rent a stable and horses to provide to competitors required a large initial outlay which was then covered by entry fees. Unfortunately, the Student Senate was often not willing to make that large outlay, or the money was delayed by bureaucratic wrangling, so the club often found itself in dire financial straits. On another interesting note, the Cavalry Barracks barn, from which these horses were borrowed, is still in existence today, although it is in the process of closing. Dean Nichols calls the barn one of the best in the area.
Maureen McIlhaney
---
Sources:
1934 Microcosm,
Associate Dean Nichols of Dickinson College
---