Men's Track and Field 1900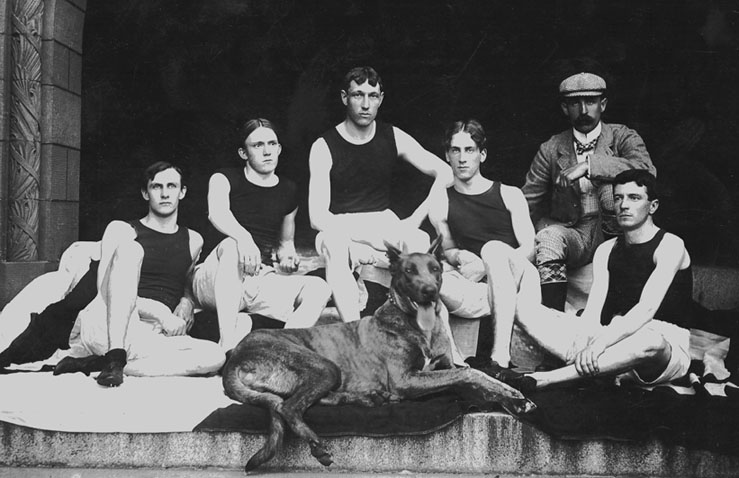 Photograph courtesy of Dickinson College Archives
---
This picture was taken in 1900 of the Dickinson Relay team. The captain of the team was S. D. Shipley. The other members of the relay team were Rhay T. Snodgrass, John C. Bieri, Frank Cayon, and Marshall West. This relay team won the Annual Relay Race held at Franklin Field in Philadelphia. In the race they defeated Bucknell University, and the college teams of Gettysburg, Franklin and Marshall, and Ursinus.
Although today the Red Devil is the official mascot of Dickinson College, in the late 1800's and early 1900's there was another mascot that won the hearts of the Dickinson student body. This was Dick the Dog, shown with the track team above. He would show up at all the Dickinson sporting events wearing his red and white. He was loved by the student body and Dick's death on January 19, 1903, was felt as a great loss by the the sports teams and the entire campus. One unconfirmed story from Dickinson's past is that some of the students decided on the fine idea to get together money from the student body and have Dick's body mounted by a taxidermist and eventually put in the college museum. It would of cost each student about 80 cents to pay for Dick to be so mounted. But interest and support for Dick fell short and soon the students on the campus had forgotten about Dick and all he had done for them. But Dick was not finished with Dickinson.
Some months later, the story continues, in October, 1903, the football team had a game against Penn State. Many of the students who made the trip to see their team play stayed in Williamsport, at the Park Hotel. To the students' surprise they saw their beloved mascot in the store window of Bush and Bills in the town. Outside the window quickly became a popular spot rallying spot before the game. The reason that Dick was in the window was the taxidermist had carried out his task but, because the students had never paid their debt, had decided to lend Dick to the store. Dickinson went on to defeat Penn State, putting the students in an excited mood. They decided that they were going to get Dick back. They felt they owed it to him because he was there when they had beaten State three years ago and he should be there then. They took up a collection and settled their debt with the taxidermist. Then they victoriously paraded Dick back to the Park Hotel. To make sure that Dick was never lost again, the school made a special spot for him in the trophy case.
Kevin McAuliffe
---
Sources:
Microcosm 1900; Dickinsonian 1903
---