Dickinson Men's Gymnastics Team 1890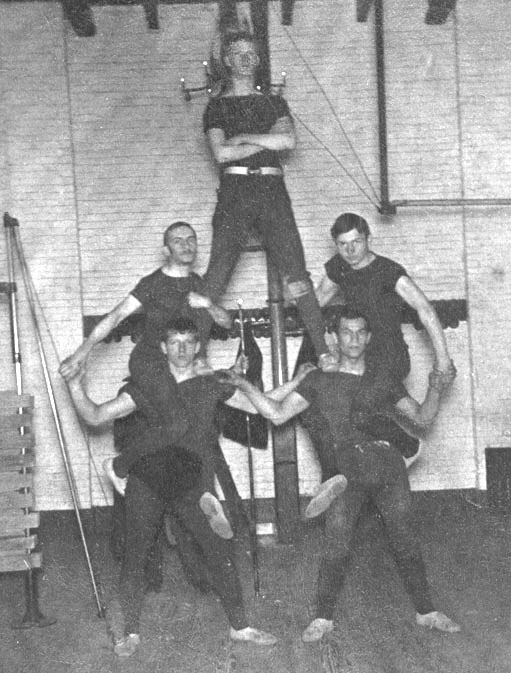 *Photograph courtesy of the Dickinson College Archives
---
Participants:
Herbert Westwood
Henry Budd (Unknown)
Cornelius J. Prettyman Van Pierce Northrup
---
This photograph was taken in 1890 of the five men who participated on the men's gymnastics squad. Extensive research failed, sadly, to identify the fifth man. The four remaining participants reside out of the state, as did many of Dickinson's students at the turn of the century. Westwood, the man at the top of the pyramid, hailed from Camden, New Jersey and was a freshman at the time the photograph was taken. He was a member of the Belles Lettres Society, one of the first social organizations at the College. It has since been disbanded. Henry Budd hailed from the great state of Delaware, and was in his third year at the college. He was the President of the College YMCA, to which all members of the gymnastics team belonged. Cornelius Prettyman, standing bottom left, was a junior who came from Upper Fairmount, Maryland. He and his younger brother Virgil attended the college at the same time for two years. He was the Vice President of his class, as well as a member of the Beta Theta Pi fraternity. His athleticism went beyond the gymnasium, for he was a member of Dickinson's varsity tennis team, which at the time was only one of three varsity sports, alongside baseball and football which the school supported. The final member of the group was sophomore Van Pierce Northrup from Hurlock, Maryland. He was a member of the varsity football team who must have made an immediate impact for he was listed as a starter. He, as well as Westwood, was a member of Belles Lettres.
The gymnastics club, as well as some other lesser known clubs, like the hunting club, the boating club, the camping club, the bicycle club, a tug of war club, and even two different eating clubs, were active on the campus and were recognized in the 1890 edition of the yearbook Microcosm as sports offered at Dickinson.
---
Sources:
Dickinson College Microcosm, 1890 and 1891
All sources, research information, and knowledge found in Dickinson College May Morris Room.
---