International Students at Dickinson College
Snapshots II
---
profiles compiled and presented by
Timothy Sidore
---
ANTONIO ANDREA ARRIGHI
DICKINSON COLLEGE CLASS OF 1865
Born 25 September 1837, Florence, Italy
Died circa 1920, New York, New York.
Antonio Arrighi led a remarkable life, accomplishing and enduring more life experiences before entering Dickinson than most people encounter in a lifetime. He survived years of torture and abuse as a slave in his native Italy. Arrighi came to America in 1860, and within a few months of his arrival, he enlisted in the Union Army. He served his new "adopted country" briefly, seeing action in the American Civil War. As he had studied in Italy after gaining his freedom, he enrolled in a Masters Program at Ohio Wesleyan College. He studied at this institution for two years, attaining his Master of the Arts Degree, presumably in Theological Studies. It was at this time that Arrighi came to Dickinson College, remaining at the College until 1865. He withdrew from Dickinson during his senior year due to an illness that had plagued him since his days at Ohio Wesleyan. Eventually, Arrighi would return to school, however he was now enrolled at the Boston School of Theology. He graduated in 1869 as an ordained minister in the protestant church. Over the next forty years, Arrighi worked as a Missionary, in both his native Italy as well as his adopted home of New York, New York. In 1911, Arrighi wrote and published an autobiographical account of his life's work and tribulations. Entitled The Story of Antonio: The Galley Slave, the work is available in the Dickinson College Library Archives. The personal enscription finds Arrighi referring to Dickinson College as his alma mater.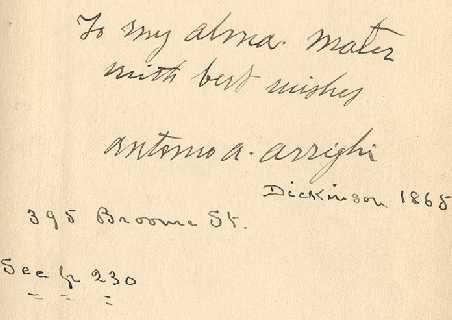 Sources
Antonio Arrighi, The Story of Antonio: The Galley Slave (New York, 1911)
The exact account of Arrighi's educational experiences in Italy is unclear, though it is known he attained the equivalent of a Bachelor's Degree while studying in Italy. Also, our research only allowed us to narrow down the date of his death to a period spanning 1914-1925. 1920 is listed above as an arbitrary median date.
---
JOUKO J. VOUTILAINEN
DICKINSON COLLEGE CLASS OF 1948
Born 24 September 1924, Helsinki, Finland.


College nickname "Joe Finland"
Jouko Voutilainen has led a successful life, both in his native Finland as well as in America. While serving in the Finnish Army as a Second Lieutenant, Voutilainen was able to complete some coursework at the University of Helsinki. Upon his arrival in the United States, at the end of the Second World War, Voutilainen entered Dickinson College. He graduated after two years of study with Phi Beta Kappa Honors, attaining a Bachelor of the Arts Degree in Economics. He studied for one year at Ohio State University, achieving his Master's Degree in Economics. Returning to Finland, Voutilainen worked as an Economist for various banks and financial institutions, eventually ascending to the position of Senior Economist and Secretariat of the Board of Management for the Bank of Finland. As reported in the February, 1957 edition of "The Dickinsonian," Voutilainen returned to Washington, D.C. as an appointed Director of the International Monetary Fund. Voutilainen represented Finland, Denmark, Sweden, Norway, and Iceland for the two-year duration of his appointment. Upon completing this work, he returned to Helsinki, where he currently lives with his second wife.
---