Samuel Brown, Class of 1797
by Alissa Zawoyski, Class of 2007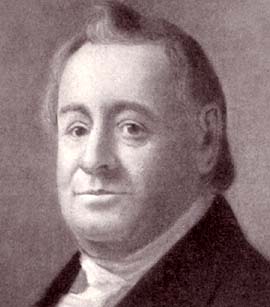 Samuel Brown was born January 30th, 1769 to Rev. John Brown and Margaret Preston Brown, both originally of Ireland, in the current area of Rockbridge County, Virginia. Referred to as "a lady of culture, intelligence, and energy," Margaret had ten children in addition to Samuel, four of whom died in childhood.1 His most renowned siblings were Preston, a doctor, James, the first Secretary of State of Kentucky, and John, a lawyer and politician in Kentucky and Virginia. 2 A student in his father's grammar school until he was sixteen, Samuel also studied at Rev. James Waddell's seminary in Louisa County, Virginia 3 before entering Dickinson College in November, 1787.4
Arriving in Carlisle, Pennsylvania and being "examined in the languages,"5 he was deemed worthy of acceptance to the College (as opposed to the grammar school). Among his textbooks were 12 works by Homer and 3 by Cicero, including De Officiis and Orations. Samuel spent his first year studying English grammar, rhetoric, chronology, natural philosophy, and mathematics. Like many students at that time, he was responsible for copying the professors' lectures: by October 1788, he had written out 180 of Dr. Charles Nisbet's lectures on languages, the history of philosophy, criticism, and logic.6 Samuel was elected to the Belles Lettres literary society in 1787. 7
As he said in a letter to his friend John Coulter in 1788, Samuel focused more on studying than courting the "Fair Pennsylvanians Ladies" in Carlisle, preferring the "advantages of a more solid and permanent nature" which might be gained through education.8 Such diligence paid off, as Samuel received his BA in 1789 after two years of study, a member of the third class to graduate from Dickinson.
Preparing to enter the medical profession, Samuel spent the next five years absorbing as much as he could from a series of teachers. He began by studying with his brother-in-law Dr. Alexander Humphreys (his sister Mary's husband) in Staunton, Virginia soon after leaving Dickinson. From there, he traveled to Philadelphia to learn from Dr. Benjamin Rush. In 1792, Samuel went to Scotland, attending both the University of Edinburgh and the University of Aberdeen, and receiving his medical doctorate from the latter institution in 1794. 9
Returning to the States, Samuel established himself as a doctor in Bladensburg, Maryland only to move to Lexington, Kentucky in 1797 to live near his brother James and other family members. Samuel was employed at Transylvania University in Lexington as "professor of chemistry, anatomy, and surgery" from 1799 to 1806, when he followed his brother once again, this time to New Orleans, where he again set up as a physician.10 Bayless E. Hardin describes Samuel's pattern:
"As before in Virginia and Kentucky, his success in New Orleans was almost immediate. His reputation had preceded him and in a short time he had acquired a lucrative position." 11

On April 18, 1800, Samuel was awarded membership in the American Philosophical Society possibly as a result of his distinguished acquaintanceship, which included such men as his teacher Dr. Rush and Thomas Jefferson. Though most of his publications dealt with unusual medical cases, such as his Extraordinary Case of a Man who appeared to have Three Testicles, 12 Samuel is well known for his piece on a "nitre" (niter or saltpeter, a mineral used in gunpowder) cavern by Kentucky's Crooked Creek, which was written for the Society.13 Samuel also garnered attention during this time for bringing the smallpox vaccine to Lexington, inoculating more than 500 people by 1802.14
In 1808, Samuel married Catherine Percy of Natchez, Mississippi.15 Though he was reportedly "reluctant to give up a third time the chance of acquiring renown as well as wealth from his profession," Samuel loved his wife enough that he agreed to quit his New Orleans practice and live closer to her family in Natchez.16 Referring to her in letters as "my dear Kitty," Samuel was by all accounts very happy with Catherine and their two surviving children, Susan Catherine (b. c.1809) and James Percy (b. either 1810 or 1812).17 Accordingly, he was devastated when Catherine died in 1813, fearing the worst during her long illness:

"…Since that time [the renewal of Catherine's symptoms] my mind has been tortured with the most dreadful apprehensions. Sometimes I have totally despaired, at others my sanguine spirit relieved me and I was indulging the most pleasing anticipations of a continuation of that domestic felicity of which I have so often boasted to you [his brother John's wife Margaretta]… Never my dear sister have I felt afflictions like these." 18

Unable to bear the constant echoes of Catherine's presence in Natchez, Samuel, Susan, and James left the area after her death, resettling in Huntsville, Alabama, where Samuel occupied himself with the children's education. 19 In 1819, Samuel collaborated with Dr. Daniel Drake on plans for a medical school in Cincinnati, Ohio. Unfortunately for Drake and the school, Transylvania University offered Samuel a position as chair of theory and practice of medicine, which he accepted. Returning to Lexington, Samuel worked at Transylvania until he retired in 1825 and moved back to his Huntsville plantation. Also in 1825, the Kappa Lambda Society of Hippocrates, which Samuel founded, first published its North American Medical and Surgical Journal. 20
The Kappa Lambda Society's scope of influence varied among its individual chapters, which existed in several major cities. Samuel's friend and biographer Dr. R. La Roche has said that the Society transformed Philadelphia, which previously saw physicians brawling in the streets, into a home for more civilized medicine. La Roche also credits Samuel with inventing a process to clarify ginseng; using steam in the distillation of alcoholic beverages; and promoting the European practice of lithotrity (breaking up stones in the bladder instead of surgically removing them) in America.
Samuel suffered a stroke in 1826 which affected his speech, memory, and balance. Though it periodically threatened to reoccur, he and Susan traveled to France in 1828. Back in Alabama, Samuel's symptoms appeared more and more frequently until he may have suffered a second stroke, finally leaving the world on January 12, 1830 at age sixty-two. 21
Bibliography
Websites
Adams County, MS. "Adams County, MS Genealogical and Historical Research." http://www.natchezbelle.org/adams-ind/doc_a_d.htm.
Encyclopedia Dickinsonia. "Dickinson College Alumni 1783-1800." http://chronicles.dickinson.edu/encyclo/a/alumni/alumni1.html.
LaBach, William A. "Ancestry of John Brown." http://members.tripod.com/~labach/brownanc.htm#i857.
Scholarly Articles and Books
Barkley, Archibald Henry. "Dr. Samuel Brown: the First Professor of Medicine West of the Alleghenies." Annals of Medical History, New Series 3, no.4 (1931): 363-367.
•This article begins with a quaint description of the perils of late 18th century America for "hardy pioneers" such as Brown, and then proceeds to state the accepted facts of his life. Barkley fails to cite his quotations, one of which is definitely from La Roche's article in Gross's Lives. Aside from that, it is a fine source.

Hardin, Bayless E. "Dr. Samuel Brown, 1769-1830 His Family and Descendants." Filson Club History Quarterly 26 (1952): 3-27.
•This article is a very good resource, and features intricate genealogical details. It includes three letters from Brown regarding his wife's illness and his own health in later years. Hardin has researched many of Brown's relatives and descendents as well, and has the bad habit of citing his own work. This fact prevents us from easily evaluating his sources.

La Roche, R., M.D. "Samuel Brown." In Lives of Eminent American Physicians and Surgeons, edited by Samuel D. Gross, M.D. Philadelphia: Lindsay & Blaskiston, 1861.
•Extensive and highly valuable, La Roche's tribute is indeed "the undiscriminating eulogy of a warm personal friend," as Phalen annotates in his own article. Apart from the bias, this is perhaps the best (i.e. detailed with regards to both facts/events and Brown's own feelings and personality) resource available. Curiously, La Roche claims Brown was born in February, though all other sources give the date as January.

Peter, Robert, A.M., M.D. "Doctor Samuel Brown." in Some of the Medical Pioneers of Kentucky, edited by Joseph Nathaniel McCormack. Bowling Green, KY: Kentucky State Medical Association, 1917.
•Peter's article is on the shorter side, but it includes many of the standard events of Brown's life described by all of the other authors (education, repeated relocations, career, purported contributions to the medical world, etc.). The article is accompanied by a good portrait of Brown, which comes closer to "boundless benevolence" than Phalen's portrait does (see below).

Phalen, James M. "Brown, Samuel." In Dictionary of American Biography, Vol. III., edited by Allen Johnson. New York: Charles Scribner's Sons, 1946.
•This brief sketch is very informative. It lacks the detail present in Hardin's article, but otherwise presents a fairly complete timeline of Brown's life. The portrait of Brown referred to may or may not be the same as the one included in Hardin's article; though it has Brown's face clean-shaven and slightly rounded, I failed to see the "boundless benevolence" which Phalen describes.

Reed, George Leffingwell, ed. "Brown, Samuel" Alumni Record of Dickinson College. Carlisle: Dickinson College, 1905. 39.
•Reed's entry is entirely false save for Brown's graduation year (1789); the pencil corrections ("1769-1830- physician") are correct. The confusion between Samuel Brown, MD, b.1769, and Reverend Samuel Brown, b. 1772, is resolved in Whitfield J. Bell's letters in Samuel Brown's Drop File.

Letters
Bell, Whitfield J., Jr. Letter to Boyd Lee Spahr, Esq. February 20, 1939. Found in Samuel Brown Drop File, Dickinson College Archives and Special Collections.
Bell, Whitfield J., Jr. Letter to Dr. Philip Van Ingen. April 30, 1942. Found in Samuel Brown Drop File, Dickinson College Archives and Special Collections.
Brown, Samuel. Letter to John Coulter. October 5, 1788. Found in Samuel Brown Drop File, Dickinson College Archives and Special Collections.
Brown, Samuel. Letter to Dr. Miller. November 10, 1800. The Medical Repository of Original Essays and Intelligence, Relative to Physic, Surgery, Chemistry, and Natural History 4, issue 3 (New York, 1801): 223.
Brown, Samuel. Letters to Thomas Jefferson. Various dates, 1792-1821. Thomas Jefferson Papers. Washington, D.C.: Library of Congress, 1976.
Jefferson, Thomas. Letters to Samuel Brown. Various dates, 1798-1821. Thomas Jefferson Papers. Washington, D.C.: Library of Congress, 1976.


Return to Encyclopedia