Forrest Craver was born September 24, 1875 one of the four children of Frank and Mary Craver, in Scanlin, Pennsylvania He attended Berwick High School, Wyoming Seminary and Dickinson Preparatory School before entering Dickinson College in September 1895. While at Dickinson College, Craver excelled in both athletics and academics. He was a fine scholar, graduating Phi Beta Kappa, and captained the track and football teams. "Cap" also served the Union Philosophical Society, and as treasurer of the college YMCA, was editor of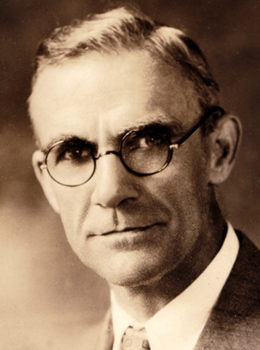 both the Hand Book, and the Microcosm, and president of his class during sophomore year. He was also a member of Phi Kappa Sigma.
He played five years as an end on the football team and was captain during the 1897 team. He scored fifty points in the 1898 season. He also was a varsity relay runner and pole vaulter whose College record for both indoor and outdoor stood for several years.
After graduating from the College, Craver became an instructor of Greek and Latin at Dickinson Seminary School in Williamsport, Pennsylvania from 1899-1900. He returned to Carlisle and taught Greek and Latin again at the Dickinson Preparatory School. He also had duties as the director of the Dickinson College gymnasium and assisted Ralph F. Hutchinson as a coach in football during the 1901 season. Craver then became the first alumnus to be the head coach for Dickinson College football in 1904, at the age of twenty-nine. He left Dickinson briefly to teach at Montclair High School and attend graduate classes at Columbia but returned in 1909 to accept the positions of Physical Director of Dickinson College and adjunct Professor of Mathematics.
Discounting a short period between 1917 and 1919, when he taught at the Tome School in Port Deposit, Maryland, he remained at the College until his retirement in 1946 as Professor of Physical Education and of Mathematics. He also taught Greek, was Director of Athletics, and served in various positions as head varsity coach, and a faculty member of Phi Beta Kappa and the Greek Club. He is credited with placing intramural sport on an organized basis at Dickinson and the office area at the Kline Center is named in his honor.
Following his retirement, the College bestowed the honorary degree of doctor of science in education. He had married Miss Margaret Nellie Moore of Laurel, Delaware on June 15, 1905 and they had two children, Roger and Margaret, who both graduated from Dickinson. The family lived on Louther Street behind Old West. After a lengthy illness, Forrest Craver died October 18, 1958 at the Carlisle Hospital at the age of eighty-three years.