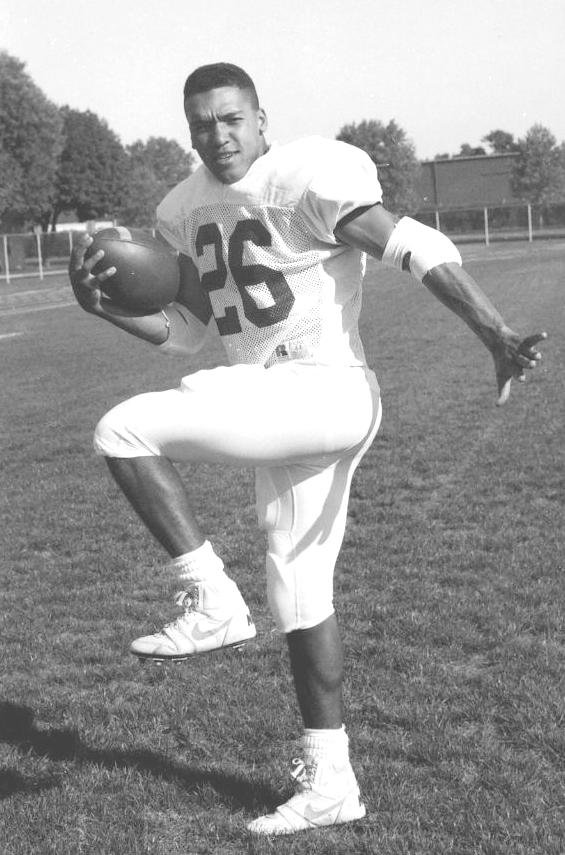 It is no wonder that 99 percent of Shaughn White's fond memories of Dickinson took place at Biddle Field. An all-star defensive back, he left the college with fond memories, too.
Ten years later, White still holds the Red Devils' record for interceptions in a season (10 for the 1991 season, ranking him second in the nation among Division III athletes) and career interceptions (19). He's tied for interceptions in a game (3).
White's football career started strongly, with an ECAC championship appearance his freshman year, and kept building. Over his four years, his teams went 36-4-2. He garnered First-Team All-Centennial Conference honors in 1990 and 1991, capping off his senior season with First-Team All-American honors.
White was an integral member of Coach Ed Sweeney's Red Devils, performing in the NCAA Division III play-offs his sophomore and senior years. Many of his fond memories revolve around the coach, whom he calls "an outstanding leader."
Off the field, White studied computer science and rushed Phi Kappa Sigma, serving as the fraternity's president his junior year. He also was a member of Dickinson's ROTC program and received his commission as second lieutenant at Commencement in 1992.
After graduation, White joined the Army as a communications officer. For five years his military service sent him across the country and the globe. He held posts overseas in South Korea, at Fort Bragg in North Carolina and in the Minnesota National Guard, and attained the rank of captain by the time he left the Army in 1997.
Following a two-year stint as a strategic buyer for General Mills, in 1998 White joined GE Medical Systems. In 2000, he took his current position as the Washington, D.C./Northern Virginia regional manager for service and operations of digital healthcare imaging systems.
In his spare time White still plays football—"I just can't shake it," he says—in a co-ed Washington-area flag football league. He also tutors high school students at the Caesar Chavez Public Charter School. When he's not on the field or in the classroom, White takes up his toolbox to restore his 100-year-old townhouse in D.C.'s Howard University historic district.