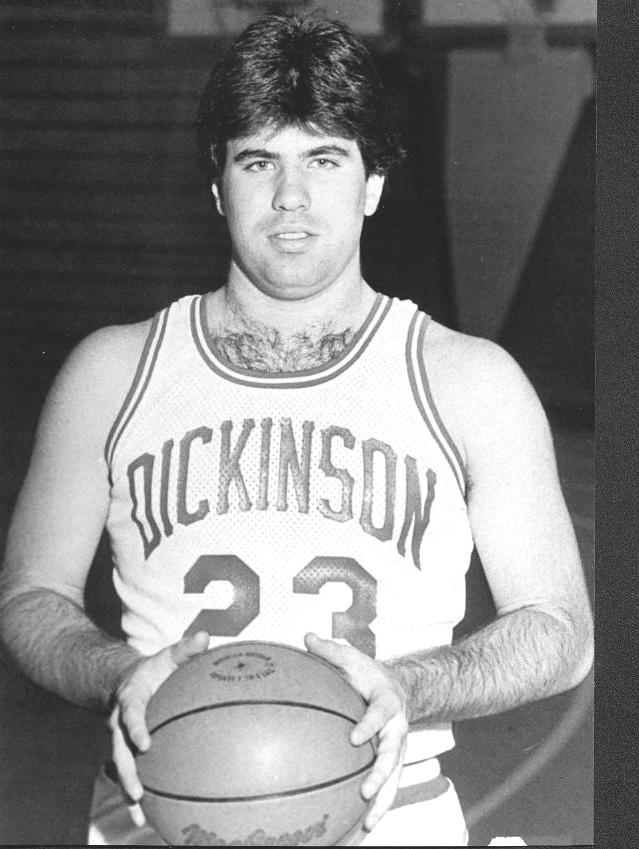 During Bill Thornton's career as a high-scoring guard, the Red Devils had their winningest four years in Dickinson history.
A three-time Middle Atlantic Conference All-Star and 1983 ECAC All-Star, Thornton played in every Dickinson basketball game during his four years, earning four letters and leading the Red Devils to a 65-38 record. With Thornton making a mark in the Dickinson record books, the team won the MAC Southwest Division championship in 1980, 1982 and 1983, and finished second in 1981. In 1980 and 1983, the Red Devils also won the MAC Southern Division championship, and in 1980 and 1982 they advanced to the NCAA tournament, placing third both years in the Division III regional championships.
In his senior season, Thornton became the fourth Dickinson player to score more than 1,200 points, and his career total of 1,207 points currently ranks seventh all-time. He is also firmly in the Red Devils' top 10 in other categories, ranking fifth in career field goals made (516), fourth in career field goals attempted (1,098), fifth in career assists (244) and fifth in assists for a season (90). As of his senior year, the 1983 team MVP had played in more games (and more winning games) than any other player in Red Devils' history.
But the on-court action wasn't enough for Thornton. In addition to playing baseball and golf, he was a Latin major and worked in the college communications office, writing sports stories about Dickinson athletes for public relations purposes. In 1983, he was the college nominee for CoSIDA Academic All-American Honors and was selected as an alternate for the NCAA Post-Graduate Scholarship (which then honored only 10 Division III athletes per year).
Two years after his graduation, Thornton returned to the Dickinson basketball program as an assistant to Head Coach Gene Evans '49. During his tenure, Thornton led the Red Devils junior varsity team to a 12-4 record in 1985-86 and a 10-4 record in 1986-87. At the same time, he resumed his public relations duties (in addition to teaching Latin full time at a local high school) and served as the college's first sports information director.
In 1987, Thornton left Dickinson to attend the Villanova University School of Law. Today he is a trial lawyer and partner in Stevens & Lee, P.C., a 175-lawyer firm in Eastern Pennsylvania. He is also a competitive amateur golfer, playing in state and local tournaments. He lives in Wyomissing, Pa., with his wife, Katherine, 7-year-old son, Evan, and 5-year-old daughter, Emma. He says, "In addition to my parents, Dickinson and Coach Evans prepared me well for my family life and career in law. I would not trade my Dickinson years for anything."