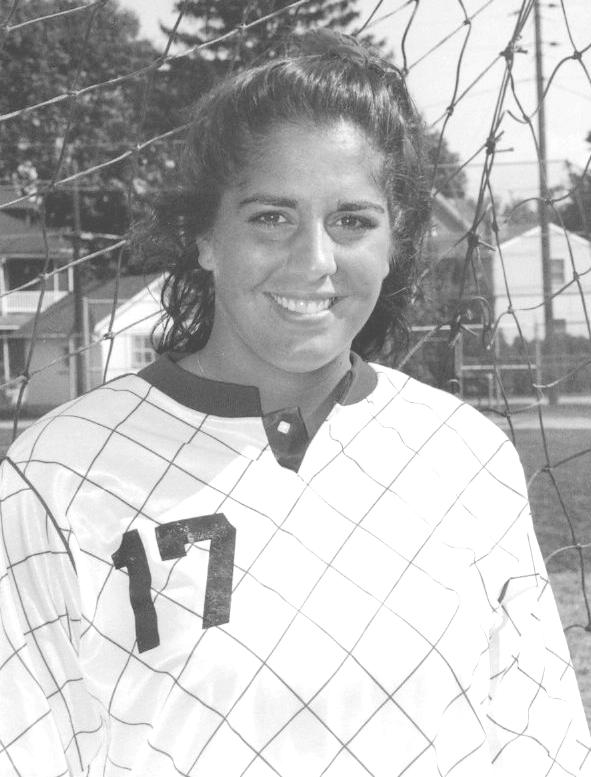 The soccer bug bit Sarah Hepp Burke when she was 8 years old and she's been in its clutches ever since. But when the forward joined the Red Devils in the 1988-89 season, she'd never played in a high school soccer match. Her West Chester, Pa., high school didn't have a women's team, so Burke devoted her summers to soccer camp and played on regional club teams during the school year. She eventually joined the Pennsylvania state team, competing with the best young women in the state against the top players in the Northeast.
Her early years as a competitor formed a strong foundation for Burke's career as a Red Devil. The McAndrews Award winner earned First-Team All-Middle Atlantic Conference honors her freshman and junior years, snagging the MVP title in the MAC West Division in 1991. At Dickinson, she became the career leader for goals (43), was runner-up in career points (99) and was fourth for career assists (13).
Burke's still a soccer standout, though. A co-captain her sophomore, junior and senior seasons, she ranks fifth and sixth in single-season goals for her freshman and sophomore years (15 each year). She's also fifth in single-season points (38) and single season assists (8). In the off-season she remained active in Red Devil athletics, serving as a student athletic trainer. The anthropology major also joined Kappa Kappa Gamma sorority and worked in the Dickinsonian office, selling advertising space to Carlisle-area businesses. She also earned her coaching license and during the summer she coached at youth-soccer camps in Eastern Pennsylvania.
When she graduated in 1992, Burke couldn't shake the soccer bug. She moved to Portland, Ore., keeping up her coaching activities in her free time. For two years she worked at a soccer-specialty retail store, coaching part-time for area high school programs and the Oregon state boys soccer team.
In 1994, Burke landed a job at her dream company—Nike. She started in customer service and for more than seven years has been active in the company's soccer division, currently as the global product line manager for the equipment group. "It's amazing that what I'm doing today is based on doors I opened as a young player," she says.
She still lives and breathes soccer, but these days Burke limits her appearances on the field to occasional pick-up games. She's been in the stands, however, at some of the best matches in the world—including the 2002 World Cup final in Tokyo this spring. Just one of the perks of the job, she says.